The Australia Bureau of Statistics released its April Labour Force Key Statistics which shows growth in the labour force that outpaced growth in employment. The labour participation rate is at its highest level since the tracking of this statistic began in 1978. Unemployment ticked up to 5.6 per cent in seasonally adjusted terms.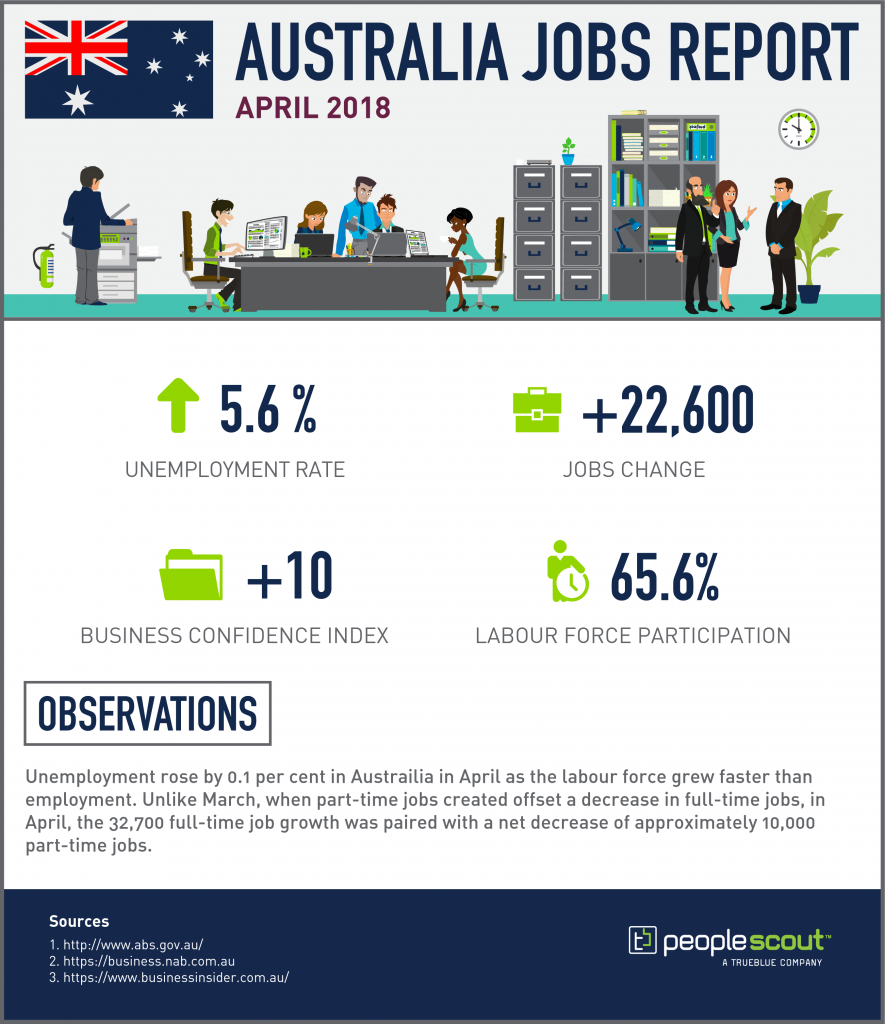 The Numbers
22,600: The Australian economy added 22,600 jobs in April.
5.6%: The Australian unemployment rate increased by 0.1 per cent to 5.6 per cent.
65.6%: Labour force participation increased by 0.1 per cent to a record high of 65.6 per cent.
+10: According to the NAB, the business confidence index rose to +10 index points.
Upside
In April, the Australian economy added 32,700 full-time jobs; however, part-time employment decreased by about 10,000. That leaves a net increase of 22,600 jobs, contrasting with the March report which showed a decrease in full-time jobs.

The increase in the labour participation rate reflects a strong job market, according to Business Insider. This market is motivating those who were not previously in the labour force to look for jobs. While employment grew by 332,100 over the last year, labour force participation increased by 341,900 over the same period. The largest increase in employment was in New South Wales, followed by Western Australia and South Australia.

The Business Confidence Index rose to +10, which is well above the historical average of +6 and higher than March's figure of +7. In addition to job creation, the index was boosted by favourable trading conditions and profitability.
Downside
Because growth in the labour market is outpacing job growth, job seekers are experiencing the downside of increased competition for open positions. For employers, this means processing an increased number of applicants.

Additionally, despite some fluctuations, the unemployment rate has remained relatively stable over the past year. This can be seen as a sign of tepid job growth.
Unknown
The Australian wage report was released earlier this week showing an annual wage increase of 2.07 per cent in the last quarter. This is a slight decrease compared to the previous quarter. Some economists consider this rate of wage growth weak. It is unclear how much employers will need to adjust their wages in the coming year to meet market demands.