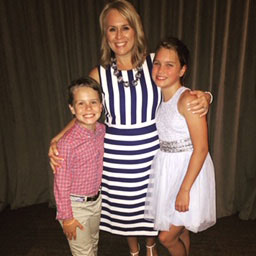 JESSIE MCGOWAN
VP, Business Development
PEOPLESCOUT U.S.
What do you actually do at PeopleScout day to day?
I lead business development for PeopleScout in North America. Most days I spend time with potential partners, to better understand their needs so that we may offer them the right customized solution.
Those are my dream job days. The rest of the days I speak with prospects to determine if we might be a good fit for their talent acquisition needs. This means a lot of time on the phone, in emails, research and rejection. The other fun part is working with colleagues on RFP responses and solutioning. I love working with prospects and telling the PeopleScout story.
What does leadership mean to you?
For me good leadership is walking the talk. If you're not ready and willing to do what you ask of your people, it's not going to fly. Business, in dramatic terms, is like going to battle. The folks you'd follow into war-those are good leaders. As a leader, you choose who you want in the bunker with you. That's your team or your trusted circle. I have been very lucky to have grown up on a team with many colleagues that I trust and admire. People that I know will go to battle with me and people that I hope know, I want to be in the bunker with them.
Do you have a leadership philosophy? If so, what is it?
I am a voracious reader and leadership books are certainly my favorite. I think my leadership philosophy is based on what I have learned from my parents' careers as entrepreneurs. When your parents own a business together, you get a lot of "shop" talk as a kid at the dinner table. I learned not to expect anything to be easy. There are no guarantees. I remember my parents being worried about making payroll for their employees and knowing that owners get paid last. Growing up in that kind of family has made me appreciate everything I get. Running a business isn't easy but it can be a lot of fun! That would be the other thing- business is serious but it isn't brain surgery. I need to have fun at work and I do!
What advice do you have for women getting started in their careers?
Take every opportunity presented and then ask for more. I have been lucky in my career but the harder I work, the luckier I get. Looking back, I would have asked for more responsibility sooner. Be a driver- challenge the status quo-follow your gut. Also, be generous with your time and attention. Love on your people, know who you work with and what they care about. It has made all the difference for me.
Who is someone who has contributed to your success and how?
Tough question to answer- there are too many but I will give it a shot. My parents raised me to work hard- it was basically our religion. A strong, built-in work ethic has been a blessing for me and I think has distinguished me in my career. Also every single person I have ever worked for, and there have been many, I have learned something impactful. Some I didn't realize it for 10 years and some I realized it from day one. The point is you might have managers or leaders you don't love but you can always learn something from the experience. That's all I am able to share since I have worked at PeopleScout for 11 years and reported to 7 different people! Lastly, my husband has been very supportive of my career and has enabled me to always say yes to the next thing.
What is the biggest failure you've had at work and how did you get through it?
I led a solution for a high-profile retail brand at PeopleScout. It was a huge deal with a large team and strategic to the PeopleScout portfolio. It was very challenging for many reasons, many that were outside my control. As it was floundering, I focused on what I could control which was leading my team in a positive but transparent manner. For 8 weeks, we ran 6 days a week with Saturdays in the office expected for salaried employees. I was coming into the office at 6:30 am and leaving at 7:00 pm. It was brutal. I remember calling my children from my desk at 7:00 am when they would get up for school to say "Good Morning" because I was already at the office running reports and preparing for the day. The client decided to end the pilot early and I was devasted. We were just turning the corner and they pulled the plug. For a long time, I felt like I let my team and PeopleScout down. It was a total humiliation and I was very sad. The bright side is we grew fantastic employees out of that crew. Many of those team members went on to be great contributors to other PeopleScout engagements over the years and I am so proud of them and the work we did together. It's experience I draw upon frequently and someday will be an excellent case study in my guide to RPO. There are multiple lessons in the experience about how to lead, how to recover from failure and that everything is temporary and that goes for winning or losing.