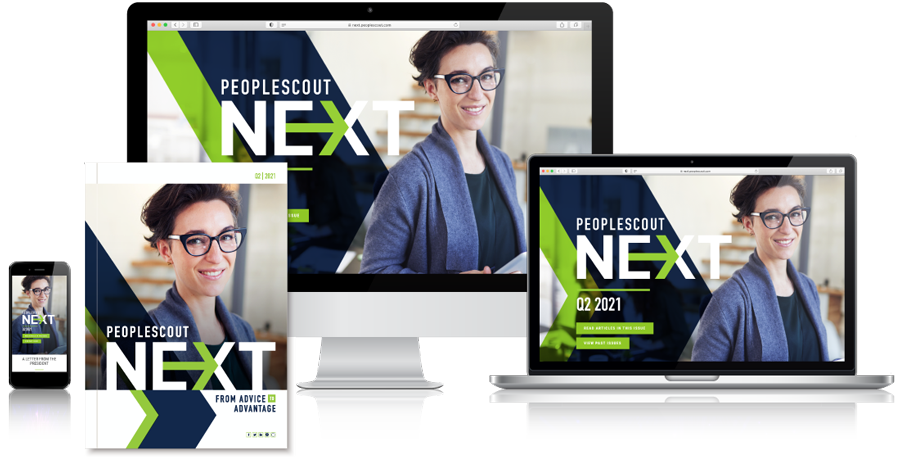 YOUR GUIDE TO WHAT'S NEXT IN TALENT ACQUISITION
With job openings at an all-time high, diversity and inclusion continuing to drive workplace transformation and an increased need for agile workforce solutions, smart talent acquisition leaders are always looking to current market trends to gain a competitive advantage.
At PeopleScout, we also keep a keen eye on key talent trends emerging across all industries to remain ahead of new challenges. And, as organizations look to future-proof their workforces, PeopleScout is here to provide guidance to employers to accelerate growth, enhance productivity and develop solutions to today's greatest talent obstacles.
We are also closely following the societal shifts impacting candidates, employers and the workforce at large. We applaud the increasing priority placed on diversity, equity and inclusion as employers seek insight and expertise on best practices, training and metrics to fulfill their DE&I goals.
Inside this issue of PeopleScout NEXT:
We provide a historical look at LGBTQ+ activism and victories in the fight for workplace equity and strategies to promote LGBTQ+ inclusion in the workplace.
A Talking Talent Profile with Jose Carbia, vice president of talent acquisition at Change Healthcare, where Jose discusses his latest project, improving the candidate experience, with a focus on candidate communication.
We highlight the importance of women in leadership told through the voices of PeopleScout women across the organization.
We outline best practices for employer branding and candidate attraction strategies that improve business outcomes.
We provide strategies for improving retention and employee satisfaction with learning and development programs.
We deliver guidance on building an employer value proposition that speaks to purpose, passion and a growth mindset.
And more!