The Australia Bureau of Statistics released its July Labour Force Key Statistics and the Average Weekly Earnings, May 2018 numbers, showing a decrease in employment and missing analyst expectations. The unemployment rate also fell slightly due to a decrease in labour force participation.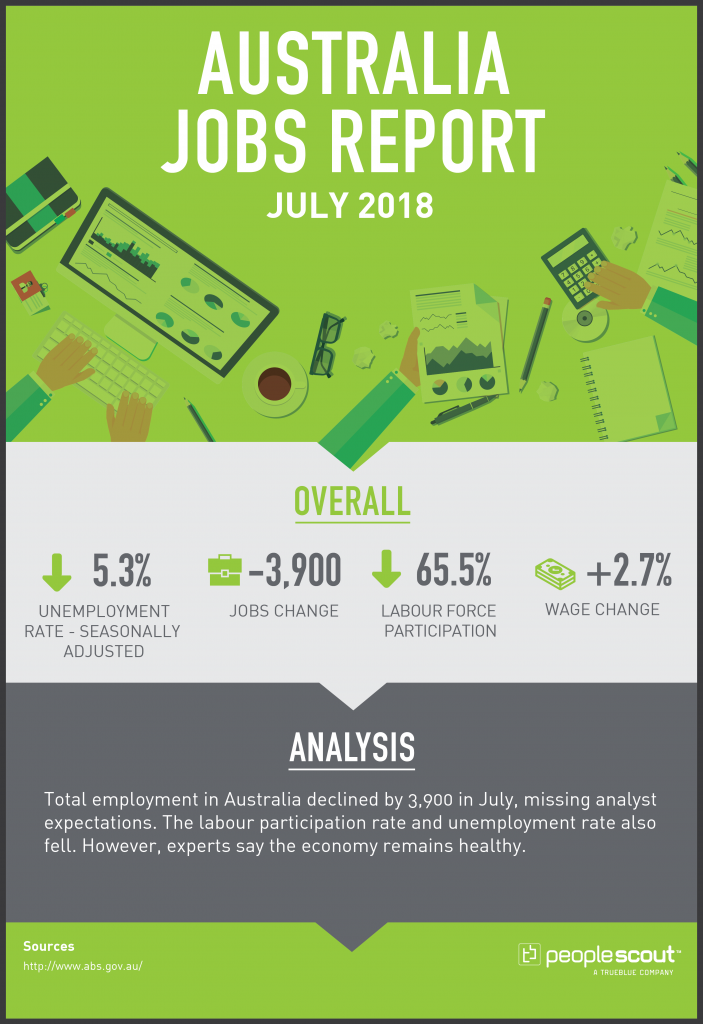 The Numbers

-3,900: The Australian economy lost 3,900 jobs in July.
5.3%: The Australian unemployment rate decreased to 5.3 per cent.
65.5%: Labour force participation decreased to 65.5 per cent.
2.7%: From May 2017 to May 2018, the average weekly earnings of adults increased 2.7 per cent
Upside

While the numbers in the July jobs report are mixed, economists say the overall trend points to a strong economy, according to Business Insider. Experts say the decrease in employment is mainly due to "monthly volatility," or normal month-to-month variation. Additionally, the loss in jobs can be attributed to part-time employment, as full-time employment actually rose by 19,300 in July. The unemployment rate is also the lowest rate since 2012.

There is also positive news for wage growth in Australia, though it isn't apparent in the overall number. Staffing Industry Analysts reports that the gender wage gap for adults employed full time has dropped to its lowest point in twenty years. The gender pay gap fell from 15.3 per cent to 14.6 per cent in the past 12 months.
Downside

The decrease in employment is disappointing, as economists had projected an increase of 15,000 jobs in July. Additionally, the decrease in unemployment can be attributed to a decrease in labour force participation.

Wage growth remains slow, and experts say while the economy is strong, it isn't likely to trigger a stronger increase in wages yet.
Unknown

Looking ahead, economists debate how this month's numbers impact the country's slow movement toward full employment, which experts say will occur with an unemployment rate of 5.0 per cent. Growth in 2018 has been slower than 2017, but it continues on a positive trajectory.