Australia's economy added 41,100 jobs in July, beating analyst expectations. The unemployment rate held steady at 5.2% as labour participation increased. The Bureau of Statistics reports that full-time employment increased by approximately 34,500 and part-time employment rose by close to 6,700.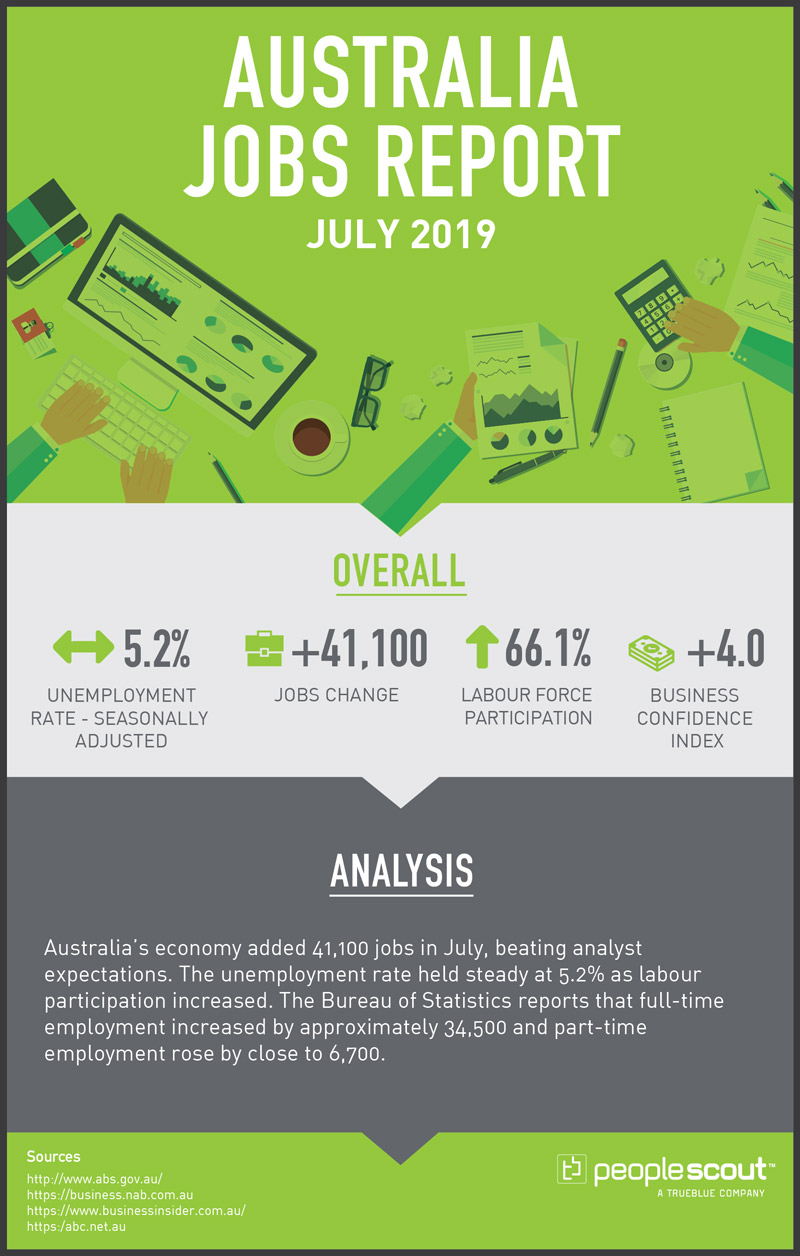 Numbers
41,100: The Australian economy added 41,100 jobs in July.
5.2%: The Australian unemployment rate remained at 5.2%.
66.1%: Labour force participation rose at 66.1%.
+4: The Business Confidence Index rose to +4 in the latest NAB release.


Upside
After an initial report of only 500 net jobs added in June, the Australian economy gained 41,100 jobs in July, easily beating analyst expectations of 14,000. The unemployment rate did not decrease because the labour force participation rate rose to 66.1%, a record high. At this peak level of participation, approximately two out of every three Australians of working age are either currently employed or looking for work. The number of those employed in Australia has grown by 2.6% over the last year.


The states with the largest employment increases in July were Queensland with 19,900, New South Wales with 13,000 and Victoria with 3,600.


Downside
Despite the impressive job growth in July, unemployment rolls grew by 800. There was a reversal of fortune for Western Australia. In June, every state except Western Australia posted job losses. But in July, it had the nation's largest number of jobs lost, decreasing by 4,200. The wage figures released this week showed continued stagnation with an annual rate growth of just 2.3% in the second quarter. This rate has not changed since the third quarter of 2018. It is thought that anemic wage growth was an important factor in RBA's recent interest rate cut to a record low of 1%.


This deadlock in wages is generating speculation that additional interest rate cuts may be necessary since market forces alone are not boosting economic conditions:


"The data largely confirms the RBA's view that spare capacity is limiting upward pressure on wages, and the economy needs to generate more jobs to absorb the extra workers," said Sarah Hunter, chief economist at BIX Oxford Economics. "Given this, we still expect the Board to cut the cash rate again this year, to 0.75% and possibly one more time in early 2020."


While some analysts do not predict robust action by the RBA, they caution that weaker job growth and higher unemployment is on the horizon. Marcel Thieliant from Capital Economics expressed doubts that the job growth reported in July can be sustained:


"The strong rise in employment in July suggests the RBA won't be in a rush to ease policy further, but we think it won't be long before the unemployment rate starts to rise again," he wrote."Employment surveys suggest that jobs growth could slow to around 1% by the end of the year. That's consistent with our forecast that the unemployment rate will climb to 5.5% by the middle of next year."


The Future of Jobs in Australia
The latest figures from the Department of Employment predicts the employment outlooks for job titles for the five years spanning May 2018 to May 2023. Some of the notable forecasts include:


Overall employment is predicted to grow by 7% or 886,100 jobs with a significant number of these likely to be part-time.
Intelligence and policy analyst jobs will increase by more than a third to 40,200 in the five years from May 2018 to May 2023.
The number of secretaries during the same period will decline by 13,600, or almost one third of the current number.
The steepest growth will be in the relatively low-paid aged and disabled care sector with their workforce expected to rise to 245,000 by 2023, an increase of 39%. This strong growth is being driven by Australia's aging population.
The Department of Employment predicts a need for 11,300 extra psychologists by 2023.
The sectors which will experience the greatest growth are healthcare and social assistance; construction; education and training and professional, scientific and technical services. In fact, the Department of Employment predicts that two out of every three new jobs created will be generated by these sectors.


The reasons given for growth in these areas are:


An ageing population, the NDIS (Australia's National Disability Insurance Scheme) and growing demand for childcare and home-care based services are driving jobs growth.
Investment in infrastructure (like roads, railways and airports) means jobs will continue to grow in the engineering construction sector. Workers will also be needed to build homes for our growing population.
The number of school-aged children is growing, and there is strong demand for adult and community education. More people are working part-time and in non-teaching support roles.
Demand is growing for qualified workers, especially in computer system design and the management and consulting services sectors.
Those hoping to work in the jobs being created over the next few years should take the steps to acquire the necessary skills to succeed in them, and those planning to employ them should consider designing their recruitment strategies with a focus on the institutions providing them with the education and certifications to make them employable. Despite some strong growth in jobs that require little or no formal training, the Department of Employment predicts that over 90% of new jobs created will need "education beyond school and some jobs will need more training than they used to. Many professional and service roles demand university or VET (Vocational Education and Training) qualifications."