The Australia Bureau of Statistics released its June Labour Force Key Statistics. The increase in employment by 50,900 beat analyst expectations and is the strongest job growth since last November. Unlike May, the increase was led by full-time jobs. The unemployment rate held steady at 5.4 per cent, in part due to the increase in Australians participating in the labour force.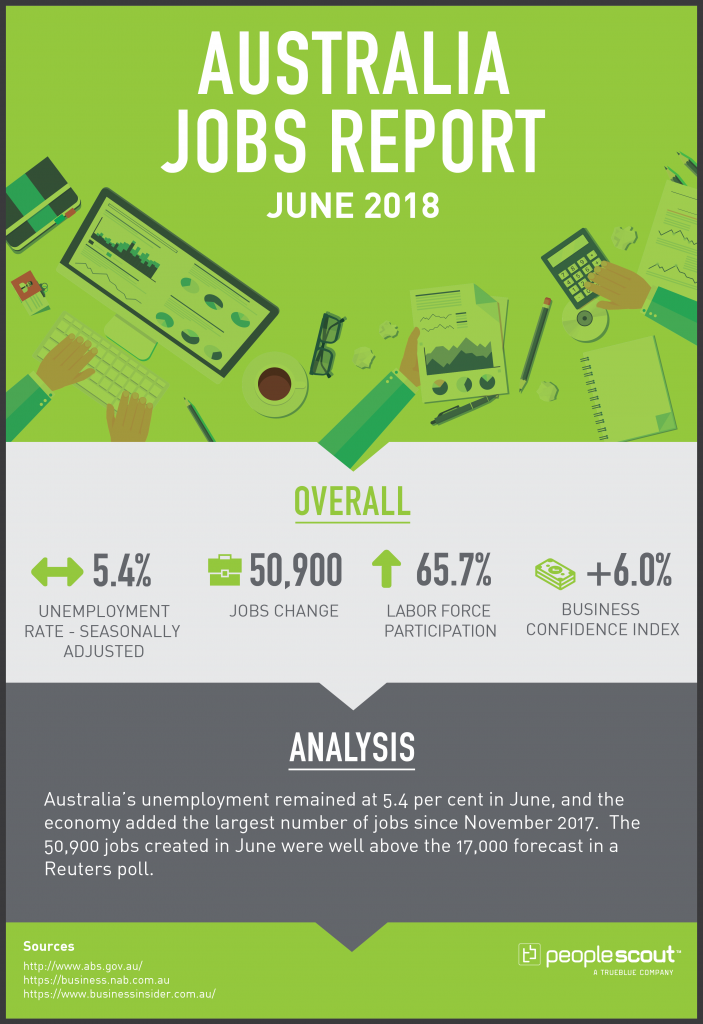 The Numbers

50,900: The Australian economy added 50,900 jobs in June.
5.4%: The Australian unemployment rate remained at 5.4 per cent.
65.7%: Labour force participation increased to 65.5 per cent.
+6: According to the NAB, the business confidence index fell to +6 index points.
Upside

The net job gain of 50,900 in June continued the trend of monthly job growth. Since June 2017, full-time employment has increased by 158,200 and part-time employment has increased by 180,800.

The increase in the labour force participation rate can be explained by more Australians having confidence in finding a job. In seasonally adjusted terms, the largest increase in employment was in New South Wales (27,300), followed by Queensland (14,800).

The chief economist head of research, Asia-Pacific for ING noted the significance of the increase in full-time jobs in the Financial Times:

"Strong growth in full-time jobs in June helped to shift a labour market that was beginning to be dominated by part-time jobs. Our full-time equivalence measure suggests that labour demand is now picking up strength. Were this to also be reflected in some improved wages growth, it could radically change the outlook for the Reserve Bank of Australia, which most forecasters see on hold all this year, and possibly all of next year too."
Downside

According to a study released in June by the Reserve Bank of Australia, the unemployment rate for people between 15- and 24-years-old in Australia is seven points higher than the national unemployment rate. Though this rate has historically been higher than for the rest of the population, Australia has an aging workforce. Businesses need to urgently address the challenge of attracting the right talent from the nation's younger generation.
Unknown

An opinion piece in Bloomberg notes the shifts in Australia's key relationships which could drastically impact its economy:

"The most significant are two related shifts. The first is changing relations between Australia's biggest trading partner, China, and the guarantor of Australian security, the U.S. The second is the nature of Australia's relationship with each of them. China's growth is slowing, and its economy is driven less by investment and exports and more by domestic consumption. That means a waning appetite for the raw materials Australia sells it even as China's economy grows bigger overall. And at some point, China may well have its own recession. Nothing lasts forever."