By Mark Fita, Global Vice President of Implementation 
An extensive amount of time and energy is put into candidate engagement, as candidate-centricity continues to dominate in a labor market of inverted supply and demand. However, the engagement strategy often focuses solely on full-time hiring. But why?
Contingent labor is critical for responding to the fluctuating supply and demand of today's talent market. Many organizations have increased contingent labor spend to decrease costs and increase liquidity amongst our uncertain economic environment. A total talent acquisition strategy—encompassing both full-time and contingent workers—helps organizations reduce agency costs and improve fulfillment to meet the most critical business demands.
In our recent study, Inside the Candidate Experience 2023 Report, we found that just two in 10 candidates rate their most recent recruitment experience as positive. Candidate ghosting, long application processes, and long delays in between hiring steps have become the norm.  Clearly, organizations must improve how they're engaging with candidates to improve outcomes across all their hiring programs.  
Keep reading to explore the differences between the permanent and contingent candidate journey, and to learn how investing in candidate engagement as part of total talent acquisition strategy improves recruitment outcomes.
A Tale of Two Candidate Journeys: Permanent and Contingent Workers
Let's take a look at the recruitment processes for permanent and contingent workers.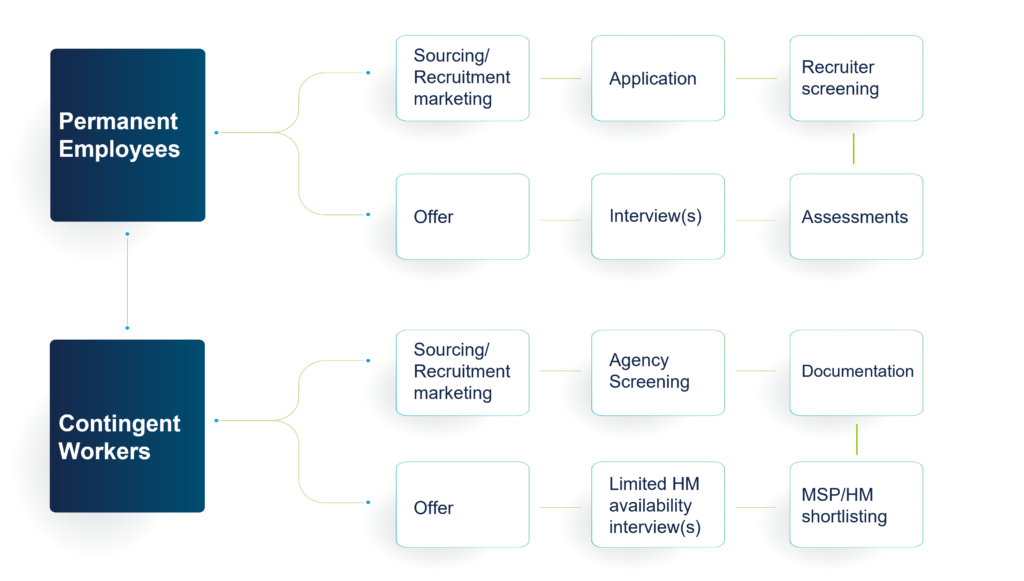 The strategies for engaging with and acquiring both permanent and contingent talent are often siloed.
Typically, Procurement leaders oversee contingent labor spend, while talent acquisition leaders look after full-time hiring. Contingent hiring is also sometimes decentralized, with hiring managers taking responsibility for their own departmental hiring. The two sides are often competing for similar talent, with each side paying a premium to get workers in the door.
Permanent hiring typically involves thorough vetting with recruiters responsible for moving candidates manually through the process.
The contingent hiring process includes various stages and handoffs, especially as suppliers pass along the candidate to the hiring manager. 
The Importance of a Total Talent Acquisition Strategy
We often see senior leaders go to their internal stakeholders to plead for 50 or even 100 workers in a particular job type to keep up with growth. Think of software developers, commercial drivers, nurses and more. These leaders are so desperate for talent that often they don't care about the workers' classification.
This makes having a comprehensive total talent acquisition strategy that includes both full-time and contingent labor hiring even more critical. Silos between these recruitment processes result in poor candidate engagement. Full-time and contingent workers end up engaging differently with your brand, leading to ghosting and drop-off—and higher costs for the business. 
While employers understand the importance of the candidate experience, there is still room to grow. Some of the common pitfalls we see are: 
Delivering one directional communication to candidates
Not tailoring the outreach and message to different target audiences
Spreading the talent attraction budget too thinly across job boards and aggregators
Not asking for feedback  
Now, let's contrast that with what candidates want:  
A mobile-first experience
Cultural immersion, regardless of worker classification
Job flexibility, including remote work options
A quick and easy application processes
Fewer interviews and shorter assessments
Real-time status feedback (No recruiter phone tag!) 
The Candidate Engagement Pyramid
So, how do you create an engaging candidate experience that gives both full-time hires and gig workers what they want? I like to think of the candidate engagement pyramid: the recruiting process, talent engagement technology and the worker value proposition.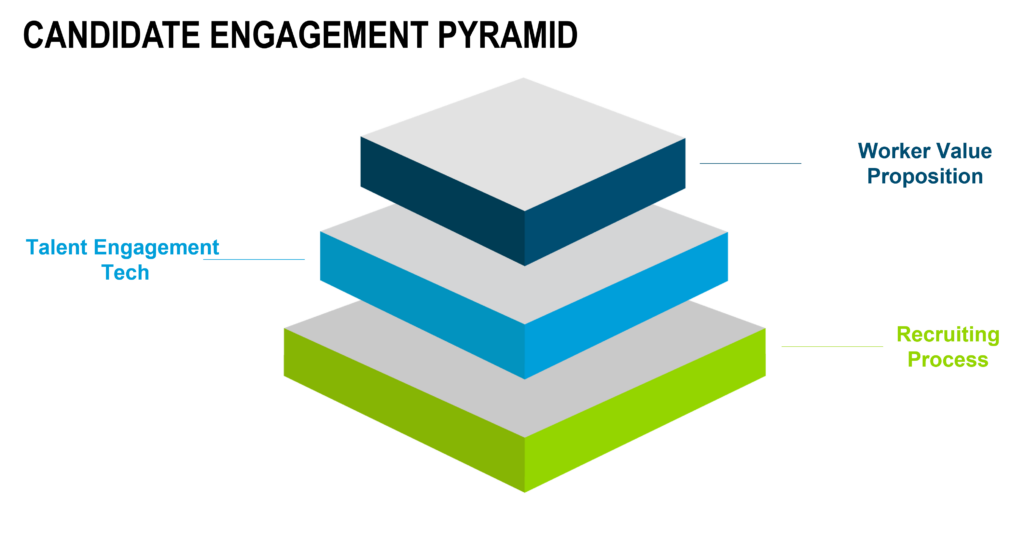 Why a pyramid? Because each level is built on the one below it. Organizations that focus on one area at the expense of others don't have a solid foundation for their talent acquisition program.
Streamlining the Recruitment Process
At the base of the pyramid, an optimized recruiting process engages talent every step of the way. Candidates should drive the process and be able to self-progress throughout the recruiting workflow, regardless of whether they're applying for a permanent or contingent role.
Focus on Your Candidates, Not Your Company
Start by focusing on the targeted talent personas. Your recruitment marketing campaigns and job postings must feature thoughtful messaging that resonates with this audience and highlights what's in it for them—not just what your organization needs.
Make Your Career Site Work Harder for You
Over 90% of job seekers globally use career sites to search for opportunities. Streamlining your career site to provide more information and eliminate candidate confusion goes a long way to increasing application rates for full-time and contingent roles.
Is your career site easy to navigate? Have you eliminated job duplicity? For example, let's say a large retailer is hiring across 20 locations in a major metropolitan area. If I apply to one location, will I be considered for all, or do I have to apply to each location separately? Do I need to apply for the part-time role if I already expressed interest in the full-time role? Consider adding FAQ content to your site that answers these types of questions and lays out the process for each job type.
Move to Mobile-First Applications
Next, a mobile-first, quick-apply process is a must-have. Over 90% of candidates have used a mobile device to apply for jobs. Yet less than half of employers are taking advantage of a one-click application tool. When a candidate can complete an application in less than three minutes, completion ratios are as high as 80%.
I recognize there are regulated jobs that require specific information. However, I'd encourage you to work with your legal teams to determine what you must know upfront and what you can move to a screening step or to the formal paperwork in the post-interview or offer phases.
Streamline Interviews
The shelf life of an engaged candidate is short. Phone tag leads to disengagement. If you can't connect with candidates quickly, they're gone. Technology is a great way to connect with candidates and speed up the vetting process. You could introduce pre-recorded digital interviews, screening questions delivered and answered by text message, or even automated interview scheduling tools.
The more interviews a candidate must complete the more likely they are to drop out of the process. Obviously, if you're looking for a senior executive, they need to be thoroughly vetted. However, a panel interview for a hospitality worker wouldn't make sense, so make sure your recruitment stages match the type of role.
Make Faster Decisions
Close the candidate. Today's competitive market requires you to make fast decisions.
If your candidate is "the one," make them feel special and respect their time. Candidates will not wait for you, so get the offer paperwork out quickly.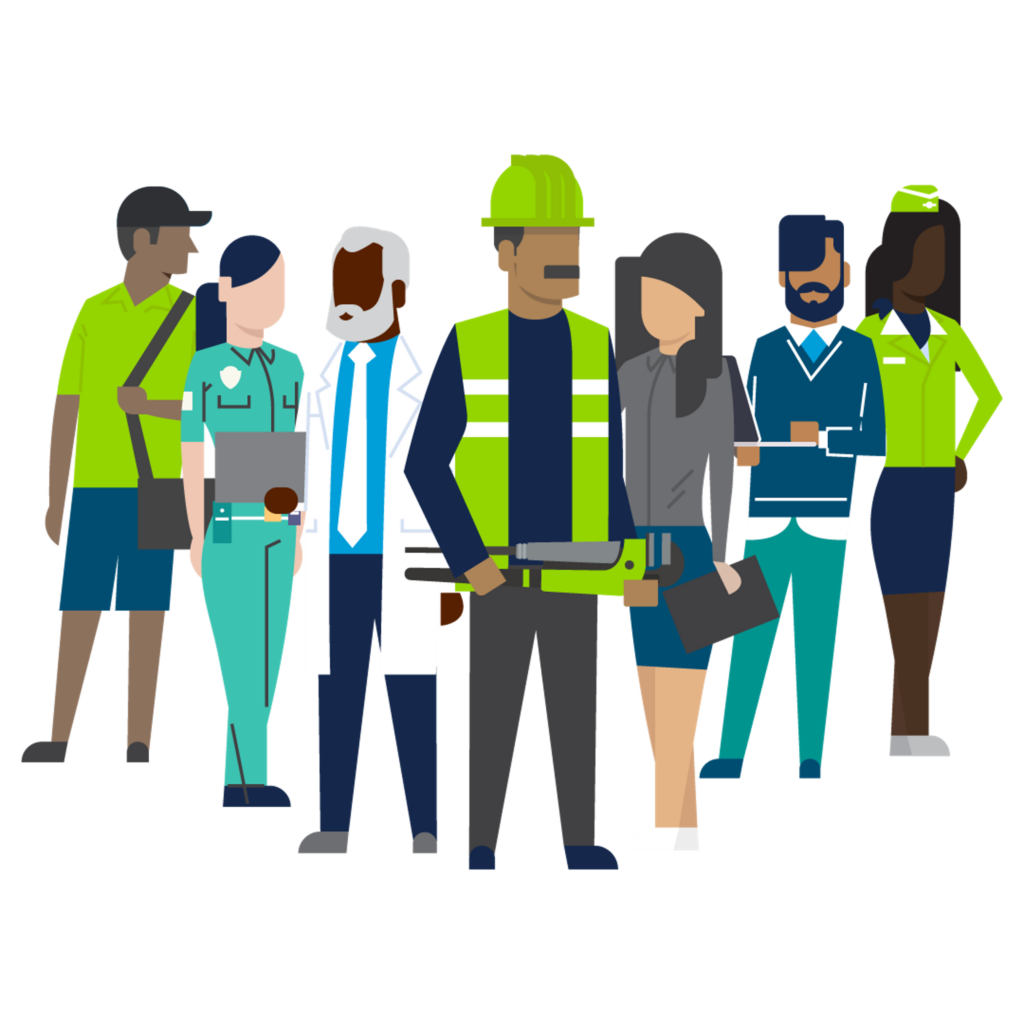 Leveraging Technology for Total Talent Engagement
Talent engagement technology is closely tied to the recruitment process. The right tools at the right point in your process can further streamline the candidate journey and prove that you value their time.
Here are some examples of how our clients leverage technology to improve their recruitment process.
Full-Time Candidate Journey
Raquel submits a three-minute application via her mobile phone and receives an automated text-based assessment. Built using natural language processing, the assessment deems her a good fit against the scoring rubric. Raquel then gets a text with a link to self-schedule an in-person interview with a hiring manager as soon as two hours later. This entire process takes about 15 minutes. Raquel has an offer by the end of the day.
Contingent Candidate Journey
Mario is a contractor who has worked on an assignment at your company before. He received glowing reviews and prefers short-term assignments due to the flexibility it offers him and his family. Your company has an advanced direct-sourcing platform that manages all current and former workers. This makes it easy and fast for Mario to find and apply for jobs because his information is pre-loaded. Mario was also pre-onboarded through your organization's preferred supplier for this labor category. Now he can sign up for a variety of shifts without going through the formal vetting process.
Invest in Your Talent Tech Stack for Candidate Engagement
Here are a few tools to consider adding to your talent tech stack to create scenarios like these that will keep your potential full-time and gig workers engaged:
Chatbots: Chatbots help candidates submit applications, vet passive talent and even automate some of the screening process. They also support candidates by answering common questions and can even be linked to a standby live resource to assist with queries that fall outside of pre-determined content.
Interview Scheduling: Self-scheduling tools help the candidate take charge of their experience by allowing them to find interview slots that suit them. It cuts the lengthy back and forth of coordinating calendars, saving time and creating a frictionless experience for candidates, hiring managers and recruiters alike.
Digital Interview Tools: There are many options for virtual interviews, including on-demand phone interviews, text interviews as well as live and pre-recorded video interviews. Virtual interviews are mobile-friendly. Plus, they are perfect for remote workers and those with variable work schedules as candidates can record their interview responses when convenient for them.
CRMs: CRMs help with regular delivery of relevant communications and content to keep candidates engaged throughout the recruitment process. You can also keep permanent and contingent talent pipelines warm and ensure they're informed about your latest vacancies and opportunities.
Analytics: A talent analytics suite aggregates data to empower you to increase fulfillment, decrease costs and reduce the time it takes to put a worker on the job. There are times when it makes sense to bring on a contractor or someone with less experience who can get trained in the same amount of time it takes to find the ideal permanent candidate. Recruitment analytics provides insights to power decisions like this and increase your agility in a competitive market.
Many providers offer a broad range of capabilities or act as a middle layer that brings together the best-of-breed tools to help you stay ahead. Whether you go with a technology suite or choose to leverage integrations to connect your systems, your selection should support a consistent and compliant set of workflows.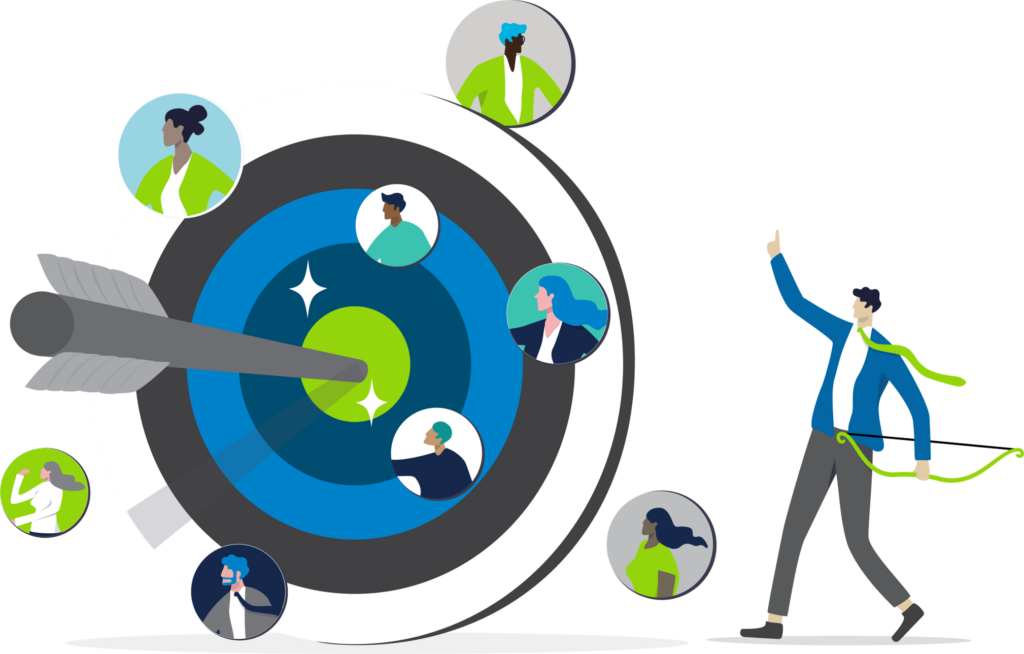 Expanding Your EVP to Include All Job Roles
Candidates today have greater expectations when it comes to work culture, flexibility, DE&I and pay equity—regardless of their working arrangement. While these expectations carry on well past onboarding, for the purposes of this article we're going to focus on talent acquisition.
Change Your Perspective
We often talk about the employer value proposition (EVP) and how important it is to sell workers on a company's proposition. But does yours apply to both your gig workers and permanent employees? Have you formally defined the value proposition for contractors?
Rather than using the term EVP, which implies the value is only experienced by those you employ directly, I like to use Worker Value Proposition (WVP) to make it more inclusive. Your WVP captures the essence of your uniqueness as an employer and the "give and get" between you and your workers—regardless of worker classification.
So, how do you move from EVP to WVP?
Boost Your Cultural Inclusion 
First, make sure that the workers are culturally immersed in your brand. Where applicable, do your contractors get one-on-ones with managers? Are they included in company events and celebrations? Can they join ERGs? What about access to paid time off or flexible schedules? Be mindful that a person's worker classification doesn't change the need to do things like dropping off the kids at school, attending doctors' appointments or running errands.  
Create Growth Opportunities
Demonstrating growth opportunities is a struggle for many employers, for both contractors and employees. Has your organization invested in creating formal career paths for all its departments? Have you mapped out how workers, regardless of labor type, impact the organization and how their skillsets can translate into long-term mobility and growth?
Communicate Consistently
You may be doing some of these things already, but are you communicating it during the recruitment process for both full-time and contingent roles? It's not enough to tuck it away at the bottom of a job description. We're helping our clients get more creative in showing their WVP through employee spotlight videos, realistic job previews, community spotlights and more.
One final note, WVP is not just a marketing exercise. The responsibility also sits with talent acquisition. Recruiters are often the first direct point of interaction between talent and your WVP, so make sure they understand their role as brand ambassadors.
Choosing a Total Talent Partner for Better Candidate Engagement
You may find yourself in a position where you need some help from a talent partner to achieve your total talent hiring goals. Here are three key things to look for:
Look for a partner with a holistic purview of the total talent landscape coupled with demonstrated success in hiring in your required labor categories. A partner should be prepared with the right market intelligence to map your talent personas against your talent market and identify, engage with, attract, and retain the talent that you need.
Your partner should have a tech stack that brings the right balance of open web sourcing, AI, and automation. Plus, these tools should introduce more candidate engagement and recruitment optimization.  
Your talent partner should create a total workforce solution unique to your business that goes well beyond the traditional means of direct sourcing. They need a track record of creative problem solving, leveraging their in-house resources to enhance your social media presence, your employer brand, your DE&I strategies, and more. 
Webinar On Demand
Boosting Candidate Engagement with a Comprehensive Talent Strategy