There are four key factors to building a strong EVP: uniqueness, authenticity, aspiration and dynamism.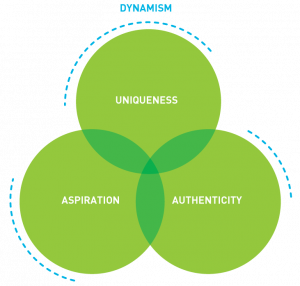 You can see how they interact in the EVP of our client, Linklaters, an international law firm. The role of a lawyer is changing with AI and automation; it's becoming more consultative and advisory as opposed to administrative. We developed the EVP, "Great Change is Here," for Linklaters to help them attract the candidates they need to take their organization into the future. Below, I'll share how this EVP is unique, authentic, aspirational and dynamic.


Unique
Your EVP should stand out from the crowd and have a unique point of view. Many organizations promote statements like "Our people are our strength." Because a statement like this is generic, it doesn't tell a job candidate why they should work for your organization specifically, which makes it less effective.


The "Great Change is Here" EVP is unique because rather than emphasize the traditional aspects someone might attribute to a lawyer – attention to detail or strong analytical skills – it focuses on where the profession is going.


Authentic
An authentic EVP should reflect the true culture and values of your organization. If your EVP doesn't reflect who you are, you can't speak to the people who would excel in your culture. An EVP that lacks authenticity could leave new hires feeling confused and betrayed if they find the culture is different than what they were led to believe.


"Great Change is Here" speaks to the way the culture truly operates within Linklaters – they are market leaders and future-focused. In the employer branding platform, we featured real employees and real stories to ensure the message was authentic to what the firm is and who the employees are.


Aspirational
Your EVP should also reflect where your organization wants to go. The aspirational aspects of your EVP will help you attract people who have the skills and passion to help you get there.


For Linklaters, the EVP calls out the fact that change is at the organization and in the industry and, no matter what the future holds, they are ready.


Dynamic
Your EVP should be dynamic in two ways. The first is that it should be agile enough to respond to change, but also future-focused. The second is that parts of the message should be able to be dialed up or down to speak to different audiences. Over time, the current state and the aspirational state of your organization will change, and your EVP should shift with you.


Your EVP should also be able to speak to the diverse group of candidates you want to attract. Your current employees are not one homogenous group – they have different roles and responsibilities and come from different backgrounds. The candidates you are targeting are equally diverse. The core of your employer brand should start with a universal truth, but effective employers will also create messaging that speaks directly to different audiences and geographies.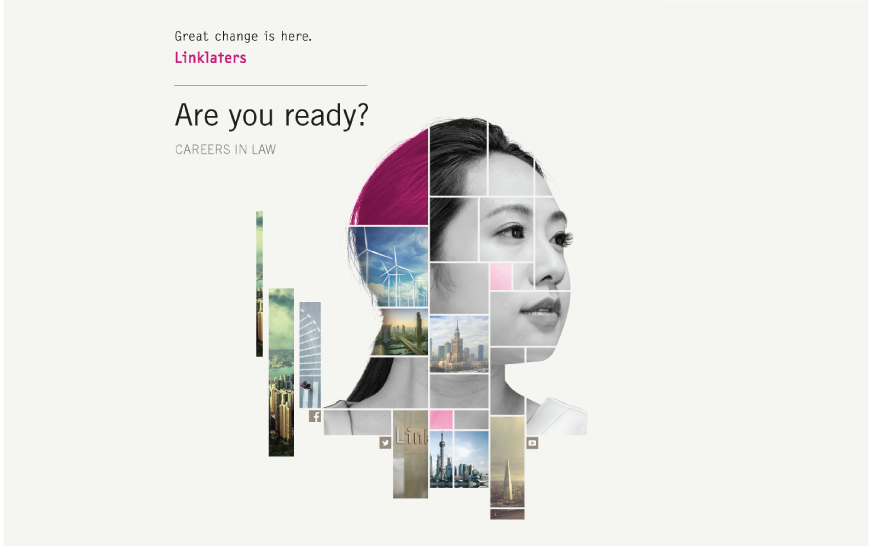 Gathering Insights to Produce Results
An effective EVP should be developed through a process of embedded discovery. This is what we do at PeopleScout. We spend time in each organization, developing a deep understanding of the culture, the goals and what makes the organization unique. We ask hard questions and gather insights that leaders may miss when they are too close to be objective. Our approach also allows employees to speak more candidly.


This process includes qualitative research – like conversations with leaders of the organization and former and current employees – and quantitative research, including data from candidates as well as engagement and pulse surveys. During this initial insights phase, we collect data and information from new hires, current employees and alumni of your organization so you can understand what motivates people to stay and what drives people to leave. You may have some of this information from exit interviews, but you can learn more by adding stay interviews and new-hire surveys.


After completing the discovery process, we define three elements:


Your organization's aspirations: This includes short- and long-term goals about how the organization wants to change in response to industry and cultural transformation.
Your organization's current state: This should reflect the reality – the good and bad about what it is like to work at your organization right now.
The outside perception of your organization: This should include the level of brand recognition you have as an employer, as well as what potential candidates think of your organization.
There will be areas of overlap between these three elements, and by analyzing they intersect, we can begin to build your EVP. We put together a statement that reflects those three elements and what is unique, authentic and aspirational about your organization. We also build the EVP so it can bend to speak to different audiences and change over time. Once that statement starts to take form, we test, refine and optimize.


Testing, Refining and Optimizing
The process of building an effective EVP is more akin to the process of testing and refining prototypes than it is to a grand reveal. In many ways, gathering insights and testing will happen at the same time. Throughout the process, start with a hypothesis, and then test and refine the message. Your hypothesis will be challenged through conversations with leaders and employees so that it can be refined for an initial roll-out.


Throughout this process, you will make changes to your initial EVP framework as you see what aspects of it resonate with your audience and current employees. During the testing phase, you should also identify your audiences. Your organization will have several, depending on the type of work you do. The type of candidate you want for a digital or creative position will likely be drawn in differently than a candidate for a floor manager or call center position. Test your EVP with these different audiences and build a spectrum of employer brand messaging, rather than one that simply splits the difference. Once your EVP is ready, you move into the roll-out stage – gaining buy-in from your current employees and infusing it throughout your entire candidate experience.


You can see how we adapted the EVP for Sainsbury's, a UK grocery store, in the following case study.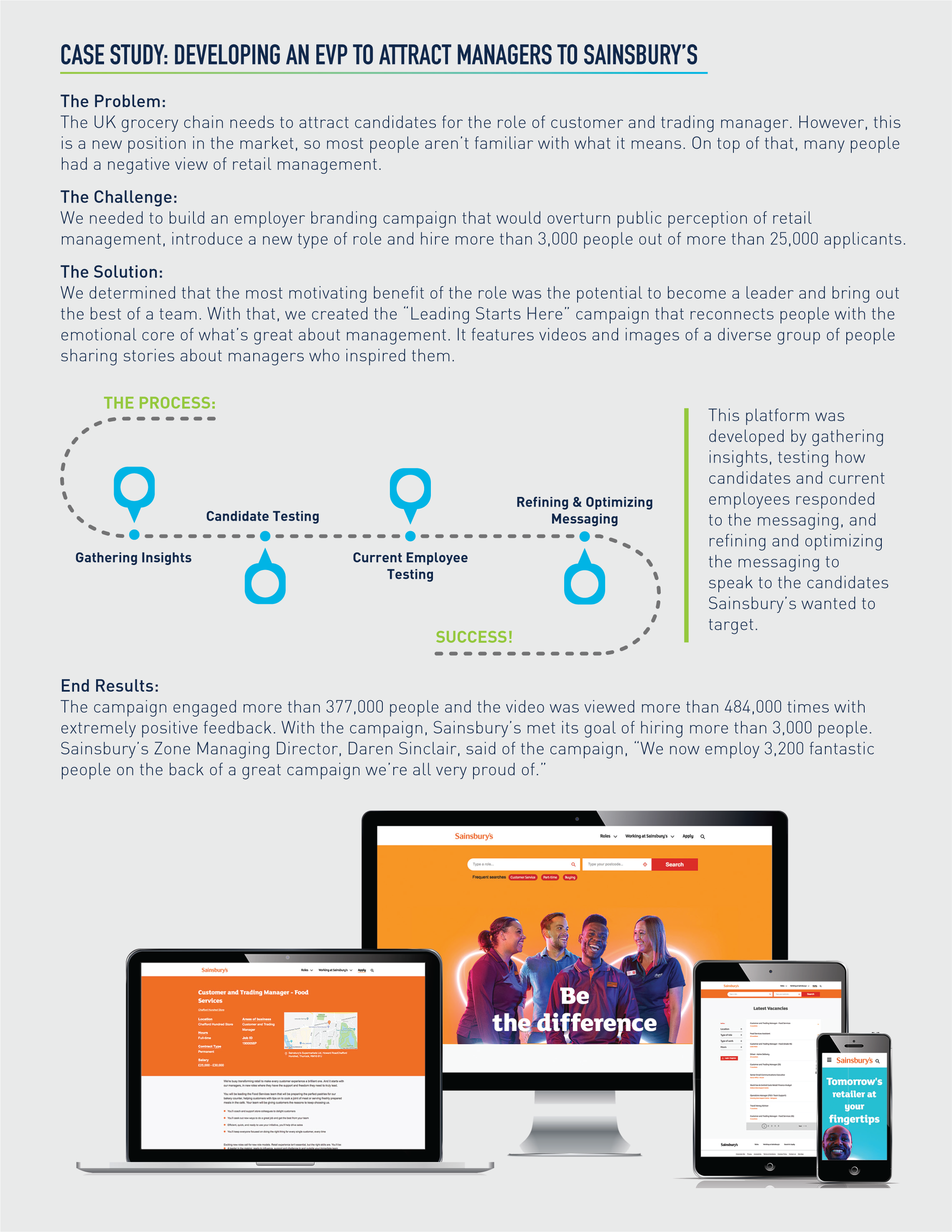 Once you roll out an EVP, you aren't done testing, refining and optimizing. One way to think of this process is that your EVP should always be "in beta." This doesn't mean you need to undergo the process of discovery from the beginning each time you modify your EVP. Instead, as your organization evolves, continuously test and evolve your brand messaging so that it always reflects where your organization is and where your organization is going.


This is the second article in a series. Read the first article, Employer Value Proposition and Employer Branding: Time for Change is Here and the third article, Employer Value Proposition and Employer Branding: Launching and Managing a Dynamic Employer Value Proposition and Employer Brand.