At PeopleScout, we are committed to providing you with information to help guide you on your DE&I journey. We aim to cover a wide range of DE&I topics, including issues regarding BIPOC, the LGBTQ+ community, gender gaps, people with disabilities and more. This article is the next in our library of DE&I resources, and specifically focuses on the Hispanic and Latinx community.
In the U.S., National Hispanic Heritage Month is observed from September 15 to October 15 to honor the cultures and contributions of both Hispanic and Latinx Americans by celebrating the histories, cultures and contributions of American citizens whose ancestors came from Spain, Mexico, the Caribbean and Central and South America.
And it's no doubt their contributions have been great—especially in the workforce and to the economy. Consider the impact this group has had and will continue to have in the future:
The Current and Future Workforce
Hispanics are the nation's second-fastest-growing racial or ethnic group in the U.S., making up 18% of the population in 2019, up from 16% in 2010 and just 5% in 1970. Nearly 60% of U.S. Latinos are Millennials or younger.
Creators of Jobs
Within the last decade, 86% of all new businesses in the U.S. have been launched by U.S. Latinos, with Latinas creating business six times faster than any other group.
Increasingly Educated
Over the past decade, the Hispanic high school dropout rate has dropped dramatically while college enrollment has increased, with about 41% of U.S. Hispanic adults ages 25 and older having at least some college experience in 2018.
Yet, organizations still lack Hispanic representation across all seniority levels. People of Hispanic or Latinx ethnicity make up 18% of the labor force but only 4.3% of executive positions in the U.S., making the gap between the labor force and executive representation wider among Hispanics than any other group.
So how can organizations do their part in closing this gap? Employers should make conscious efforts to attract and retain this diverse group of talent and provide them with opportunities for growth and development.
Understanding the Many Names of this Diverse Group
Before you can effectively attract candidates from Hispanic and Latinx backgrounds, it's important to understand the terminology that identifies this unique group.
According to Pew Research Center, "the terms 'Hispanic' and 'Latino' are pan-ethnic terms meant to describe—and summarize—the population of people living in the U.S. of that ethnic background."
Some have drawn distinctions between the two terms, and their widely used definitions can be summarized as the following:
Hispanic: A person residing in the U.S. with descent from Spanish-speaking countries (this excludes Brazil, where Portuguese is the official language).
Latino: A person of Latin American descent residing in the U.S. (this includes Brazil but excludes Spain).
However, this group has mixed views on how they prefer to describe their identity, with over half describing themselves by their country of origin.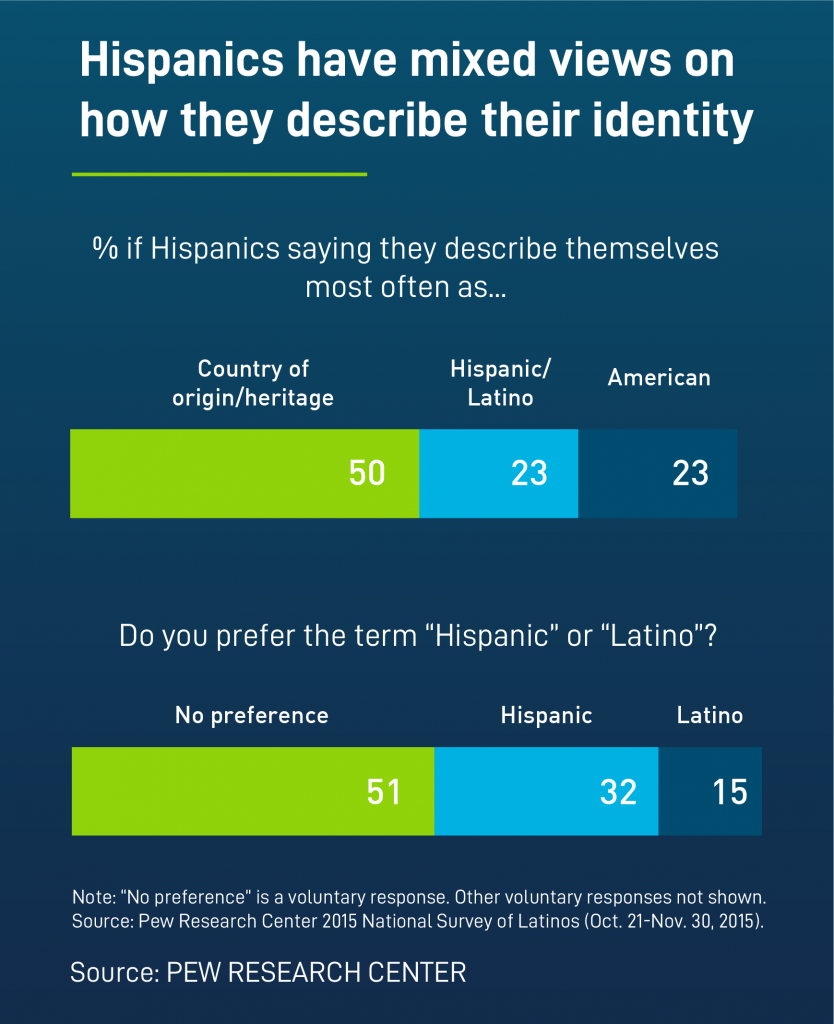 In recent years, a new term has emerged as an alternative to Hispanic and Latino: Latinx. The term is one of many in the global movement around gender-neutral language. Latinx serves as a gender-neutral alternative to Latino and Latina and aims to encompass Latin American and Hispanic people from all racial backgrounds while also including those who identify as transgender, queer, agender, non-binary, gender non-conforming or gender fluid.
According to trend data from Google, the term first appeared online in 2004, but didn't begin to gain momentum and wider usage until 2014. Today, it sees use around the world, most often in the U.S.

And much like the terms 'Hispanic' and 'Latino', surveys also reveal mixed feelings on 'Latinx' among the population it is meant to represent. Younger people, ages 18-29, are most likely to have heard of and use the term, while older people 65 and up are least likely. Specifically, use is the highest among young Hispanic women—14% say they use it, compared to the 1% of Hispanic men in the same age range. Here are other factors that impact how likely a U.S. Hispanic person is to have heard of Latinx and use the term: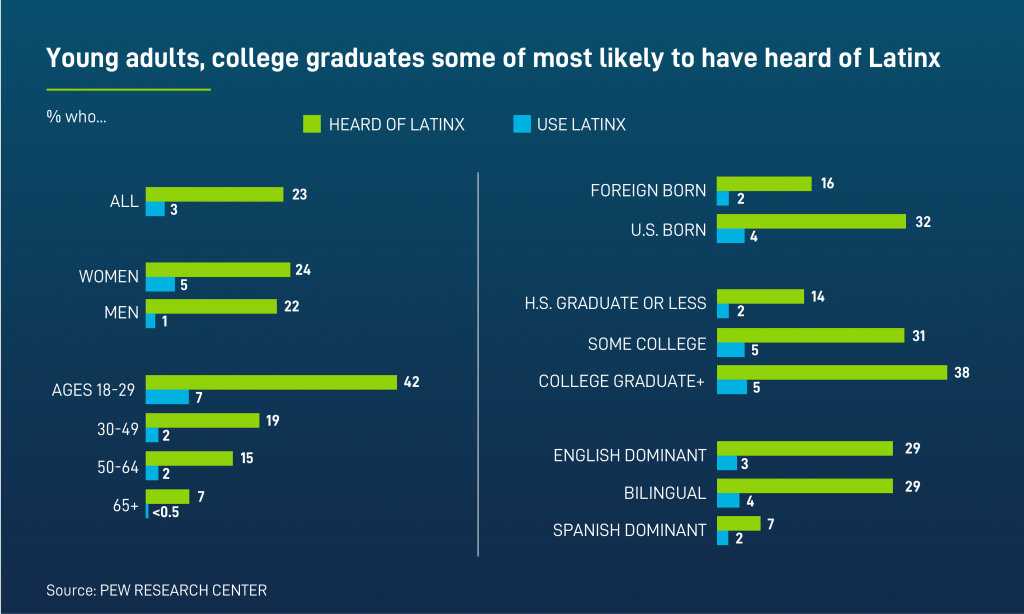 Whether the term Latinx should be adopted as a pan-ethnic term for the U.S. Hispanic and Latino population is still up for debate, with one third of those who have heard the term believing it should be used more broadly, according to data from the Pew Research Center.

Like many scholars, journalists, activists and publications, PeopleScout will opt to use the term for the remainder of this article in an attempt to better include the many groups of people who make up the Latinx population.
Strategies to Recruit and Retain Hispanic and Latinx Candidates
If your organization is committed to improving its diversity, equity and inclusion practices, Latinx employees are a vital group to include in this initiative. Latinx individuals come from a wide variety of backgrounds, making the group extremely diverse in culture within itself. By including people from this group across your organization and in executive positions, your business will be better equipped to evolve and innovate as time goes on. Consider these strategies for recruiting and retaining Latinx candidates.
Recruit with Intention
Employers need to be intentional in improving representation of Latinx employees in leadership and across the workforce. Make it a point to recruit from industries and universities that are highly diverse.
"If you do not have intentionality with diversity and inclusion, you have nothing." – Cid Wilson, President and CEO of the Hispanic Association on Corporate Responsibility (via Invariant)
Utilize Employee Testimonials
Show candidates that your organization is home to diverse talent by showcasing those employees in your recruitment marketing tactics. You can share their experiences working for your organization through quotes, videos, personal stories or recruiting case studies. It is especially important to highlight diverse talent from all levels of your business.
Expand Your Search
When possible, it can be beneficial to expand your talent search nationwide, or even internationally as your organization allows. With the immense rise in remote work since the onset of the pandemic, many Latinx candidates will be looking to organizations with remote and flexible work options as they make the next move in their careers. Or, if your business requires in-person work, a competitive offer might have that top talent considering relocating for the position.
Leverage Employee Networks
Look to your existing Latinx employees, as well as all employees, for diverse referrals. In addition, you should seek input from these employees on how to attract candidates with similar backgrounds, as well as hear their ideas for organizational change and goals. In other words, empower them to have a voice.
Provide Mentorship
Even if your organization is highly diverse, any member of a minority group might feel excluded at times. By providing opportunities for mentorship both with individuals of the same background as well as those with different backgrounds, employees will feel more included. Encourage mentors to help employees meet their professional goals so they can grow within the organization.
How to Support Your Hispanic and Latinx Employees
Recruiting Latinx employees is the first step in improving diversity in your organization. The next is focusing on ways to make those employees feel supported and included.
For example, at PeopleScout and the broader TrueBlue organization, we have the Hispanic Opportunity & Latin Awareness (HOLA) employee resource group to embrace and support our Latinx employees and
associates within the communities we serve. HOLA aims to increase cultural competency and awareness around Latinx issues and concerns throughout TrueBlue, support TrueBlue's efforts to attract and retain the best Latinx talent and provide the development and support necessary for Latinx employees to grow both personally and professionally.
Here are examples of other companies with impressive initiatives to support their Latinx employees:
Coca-Cola
Coca-Cola's "Hispanic Leadership Business Resource Group" offers its Hispanic and Latinx employees development, networking, community involvement opportunities and helps the company drive innovative business ideas. In 2017, the group had an idea for a Point-of-Sale Spanish Adaptation Tool which allowed bilingual employees to submit their interpretation of Coca-Cola taglines and phrases in different Spanish dialects to avoid the phrases losing their meaning through literal translations.
Furthermore, the company showed their commitment to Hispanic and Latinx employees when there was uncertainty about Dreamers in the U.S. by covering the $500 DACA renewal fees for employees in the program.
Ellucian
Ellucian, a software and solutions development company for higher education, gave employees a sense of belonging by celebrating their heritage. The company planned volunteer events, office potlucks celebrating Latinx and Hispanic culture, highlights of influential Hispanic Americans, and an Instagram takeover for Latinx employees to share their experiences working at Ellucian. The first takeover on the company's Instagram account came from the leader of ¡wepa!, the company's Latinx ERG.

General Motors
General Motors, a vehicle manufacturing company, supports Hispanic employees from the very beginning by specifically targeting professional Hispanic organizations and Hispanic Serving Institutions as part of their recruiting strategy. The company focuses on raising the number of Hispanic professionals in STEM through their recruiting efforts and by providing over $5 million in scholarships for Hispanic STEM students.
Leidos
When the defense, aviation, IT, and biomedical research company discovered that the Hispanic and Latinx community was being disproportionately impacted by COVID-19 nationwide, they made it their priority to help. Leido's Latinx ERG partnered with the Mayor's Office on Latino Affairs in Washington, D.C. and Neighborhood Health in Alexandria, VA to donate more than 6,000 face masks and 1,500 bottles of hand sanitizer to help combat the spread of COVID-19 within Latinx communities in those areas.
You can find more examples of companies who prioritize their Hispanic and Latinx employees here.
Hispanic and Latinx Inclusion in the New World of Work
The new world of work is not just about where and how work is done, but it's about the people who are doing the work. It's a candidate's market, and people will choose employers who care about their employees as people. In order to be truly successful, organizations must fully understand their workforce, starting with their employees' diverse backgrounds and identities.
By understanding your underrepresented groups of people, like Hispanic and Latinx employees, consciously recruiting them, celebrating their heritage and investing in their growth, we'll work our way toward a workforce with equal representation and strong inclusion of diverse groups across industries and at all levels of seniority.