CHICAGO – July 6, 2020 – PeopleScout has been named a Leader in Everest Group's inaugural Recruitment Process Outsourcing (RPO) Services PEAK Matrix® Assessment 2020 for North America.
"PeopleScout is the largest RPO provider in North America in terms of hires managed," according to Arkadev Basak, Vice President, Everest Group. "The company's continued investments in its technology, analytics, and consulting services capabilities and strong presence across traditional RPO adopters, coupled with its forward-looking strategy to better serve clients from fast-growing/new industry verticals, have helped position it as a Leader on Everest Group's RPO in North America PEAK Matrix® Assessment 2020."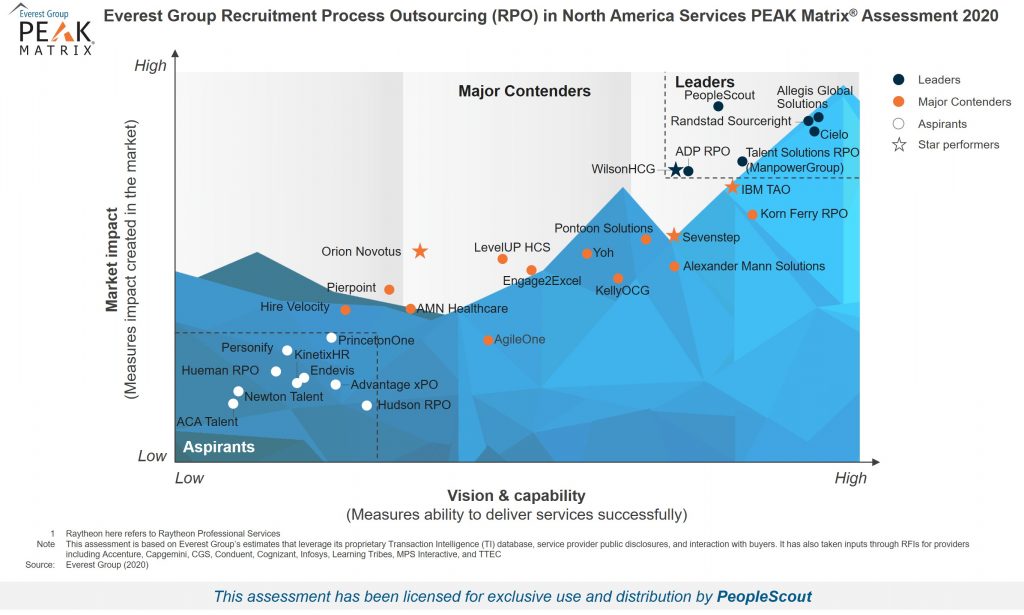 Everest Group classifies RPO service providers into three ascending categories of Aspirants, Major Contenders and the highest designation, Leaders. Everest Group's PEAK Matrix® framework assesses the market impact and overall delivery capability of RPO service providers.
"We are committed to providing our clients with innovative solutions, whether it is through our technology offerings, talent advisory strategies or our holistic approach to RPO," said PeopleScout Interim President Chip Holmes. "The recognition from Everest Group as a Leader and the largest RPO provider in North America is a testament to our mission to help our clients find, engage and deliver the best talent, as we face the challenges presented by the coronavirus pandemic and move forward into a new 'normal' together."
Everest Group's assessment of PeopleScout on this year's PEAK Matrix highlighted the following strengths:
PeopleScout is the largest RPO provider by number of hires managed in North America.
Leaders, including PeopleScout, have performed better than peers in areas such as consulting and value-added services, Total Talent Acquisition (TTA) and development of technology-driven offerings such as high-volume and low-cost solutions.
Referenced clients reported that responsiveness, access to resources, technology and reporting were key strengths of PeopleScout.
PeopleScout's proprietary talent acquisition technology Affinix™ was recognized for its host of features, including video interviews, candidate self-scheduling, talent community management, predictive and prescriptive analytics capabilities, and its talent mapping feature which uses AI sourcing to find candidates who are the best fit for particular job titles and roles.
PeopleScout's recent acquisition of TMP Holdings LTD (TMP) strengthened its European (particularly UK) presence and has helped grow its share in multi-country RPO deals covering North America and the UK and rest of Europe.
PeopleScout has been proactive in strengthening its presence in fast-growing industry verticals in North America, such as retail and healthcare. The company has also developed capabilities to service clients in new industries such as government/public sector, media, and energy and utilities.
Everest Group's research is based on three key sources of proprietary information: its database of approximately 3,000 RPO deals, the operational capability of the 30 assessed RPO service providers and ongoing buyer surveys and interactions. To be named a Leader, RPO providers must have the highest maturity levels in market impact, vision and capability.
To learn more about the RPO Service Provider Landscape PEAK Matrix® Assessment 2020 for North America visit the Everest Group website.
About PeopleScout
PeopleScout, a TrueBlue company, is the world's largest RPO provider managing talent solutions that span the global economy, with end-to-end MSP and talent advisory capabilities supporting total workforce needs. PeopleScout boasts 97% client retention managing the most complex programs in the industry. The company's thousands of forward-looking talent professionals provide clients with the edge in the people business by consistently delivering now while anticipating what's next. Affinix, PeopleScout's proprietary talent acquisition platform, empowers faster engagement with the best talent through an AI-driven, consumer-like candidate experience with one-point ATS and VMS integration and single sign-on. Leveraging the power of data gleaned from engaging millions of candidates and contingent associates every year, PeopleScout enhances talent intelligence for clients across more than 70 countries with headquarters in Chicago, Sydney and London and global delivery centers in Toronto, Montreal, Charlotte, Bristol, Krakow, Gurgaon and Bangalore. For more information, please visit www.peoplescout.com.
Press Contact:
Sarah Katz Candelario
Director of Marketing & Communications
skatz@peoplescout.com
312-915-5544