At the onset of the COVID-19 pandemic, employers across all industries faced difficult personnel decisions as organizations were forced to reduce their workforces. Now, as a sense of normalcy and stability returns, employers find themselves facing a new challenge: The Great Resignation.

According to the State of Employee Engagement Q2 2021 conducted by TinyPluse, human resources and C-suite leaders expect that only 8% of their employees will choose to quit once COVID-19 restrictions are fully lifted, while one-quarter believes no one will quit. However, executive optimism stands in stark contrast to employee behavioral studies. On the high end, career website Monster found that 95% of workers were currently considering quitting their current position, and Microsoft research found that 41% of the global workforce was debating leaving their current employer in 2021.

So, how can employers mitigate talent turnover and start building their workforces for the economic recovery? In this article, we'll explain the Great Resignation, take an in-depth look at what job candidates are looking for from employers and provide retention strategies for navigating the current talent landscape.
What is the Great Resignation? The Great Resignation is Here and It's Real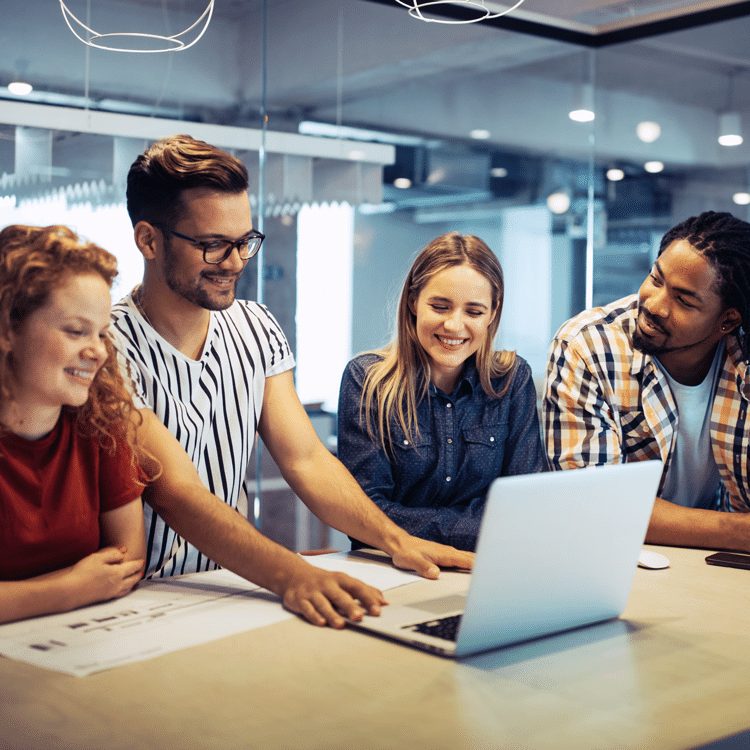 The great resignation is here and it's real. In the wake of the pandemic, workers are expecting more from their employers. In particular, they expect employers to help alleviate—or at least acknowledge—their concerns, needs and special circumstances. Notably, organizations that failed to do so have suffered.
While every sector is experiencing an increase in resignations, the healthcare, retail, hospitality and restaurant industries have been hit the hardest. For some workers in these industries, it's because these jobs have extensive interaction with the public and employees are worried about the risk to their health. Meanwhile, others—specifically those in lower-wage jobs—are pivoting to new careers that promise better pay, benefits or rewards during the Great Resignation.
The Great Resignation is a term coined by researcher Anthony Klotz of Texas A&M University. It refers to the massive, economy-wide increase in job turnover that is expected to accompany the end of COVID-era regulations, business closures and work-from-home mandates. According to Klotz, there is no single factor responsible for the Great Resignation. Rather, numerous motivators are inspiring employees to consider changing jobs.
For instance:
Many employees who would have otherwise already quit their jobs stuck with their positions for the duration of the pandemic. And, now that job security is less important, people in this group are preparing to finally make the change they've been postponing.
The stress of the pandemic contributed to higher levels of employee burnout, which is associated with higher turnover rates.
Time away from the workplace has led some people to consider rebalancing their priorities to focus more on their families or hobbies. Others are reevaluating how their careers align with their values and interests.
Millions of employees experienced the flexibility and convenience of remote work for the first time during the pandemic. As a result, many do not want to return to the office, even after the Great Resignation ends.


Klotz's assessment aligns with data collected from Achievers Workforce Institute's Engagement and Retention Report. The report found that employees' reasons for leaving were the following: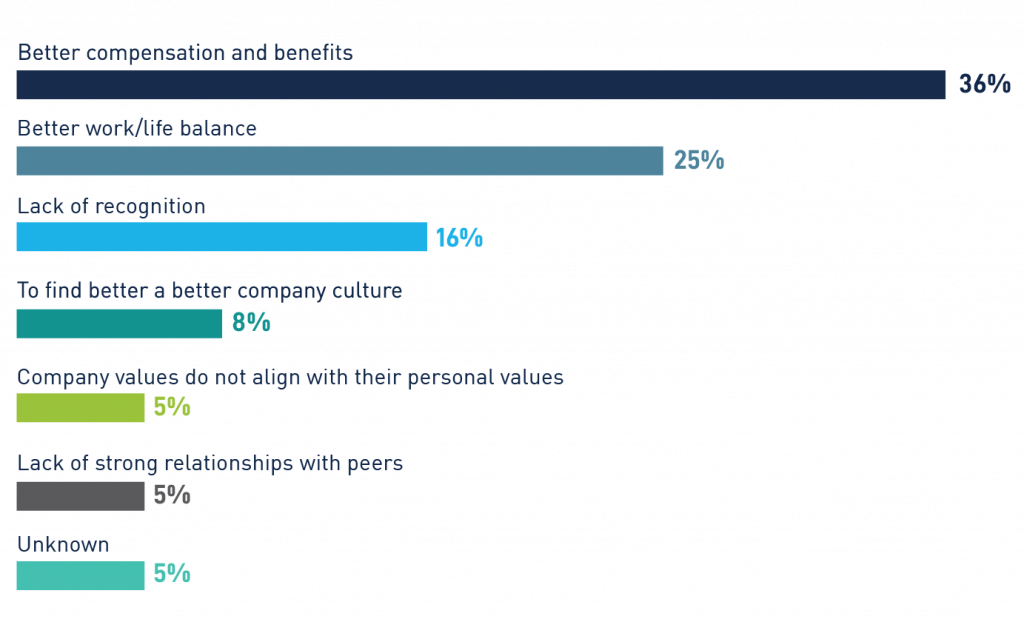 As you can see, the data shows that some workers are resigning based on how their employers treated them during the pandemic. Likewise, workers who may have been teetering on the edge of quitting pre-pandemic were also pushed to a breaking point with the additional stress brought on by COVID-19. And, although workers have always cared about their work environments, now there's an entirely new dimension: An increased willingness to leave a role if dissatisfied. To that end, in the next section, we provide proactive strategies for retaining your workforce amid recovery.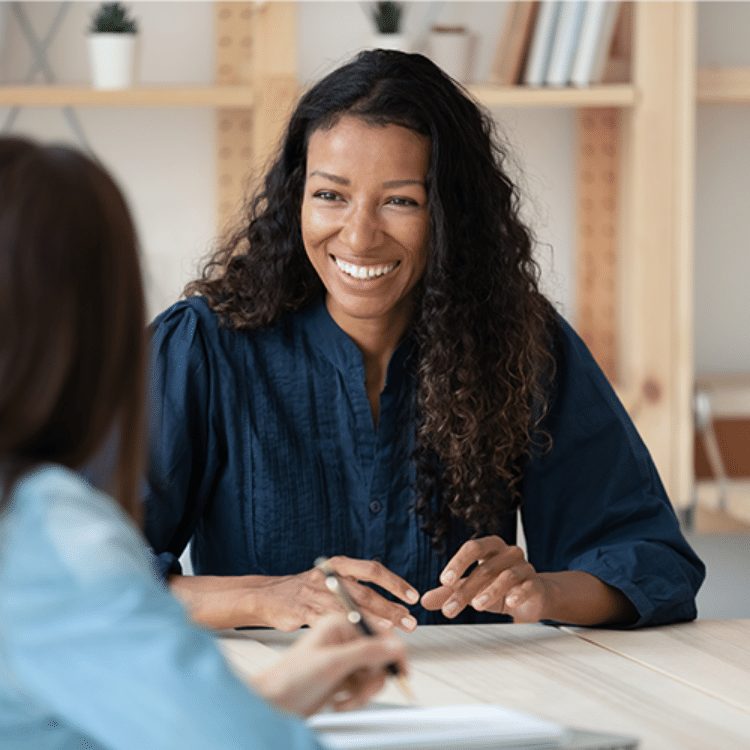 Retaining Talent During the Great Resignation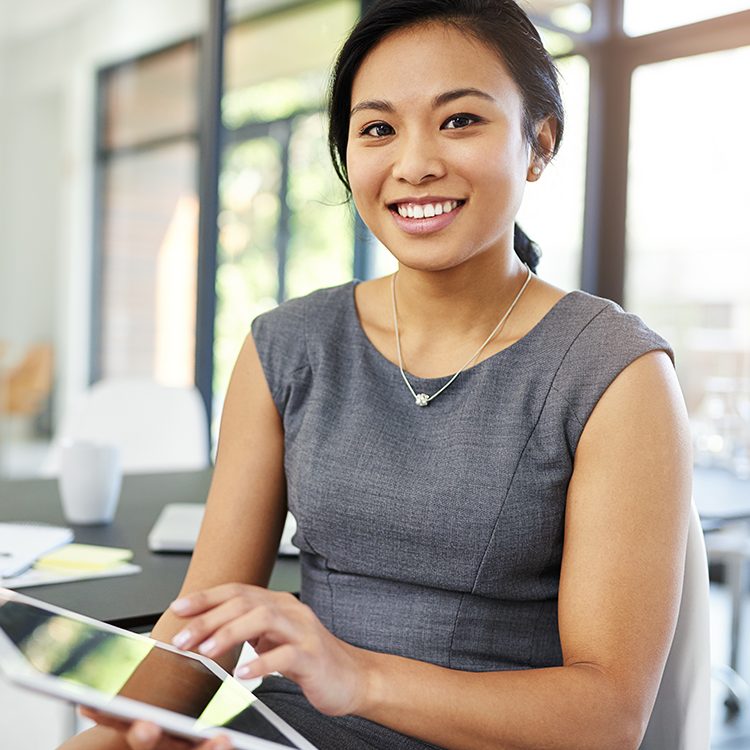 With so much riding on successfully retaining talent right now, it's particularly important for employers to get it right. As such, employers need to better understand what drives and sustains career satisfaction among their employees. Below, we outline strategies for gaining insights into your workforce that can help you better retain talent amid the Great Resignation.
Professional Development & Advancement Opportunities
Well-thought-out professional development and internal mobility programs can provide your employees with opportunities and clear direction on how to increase their skills and advance their careers within your organization.
"Career management continues to be a top driver of attraction, talent retention and sustainable engagement for most employees," wrote Laurie Bienstock of Willis Tower Watson in an article published by HR Dive. "Effective career management at many organizations remains elusive. That's one of the main reasons so many of today's employees feel they need to leave to advance their careers."
Fortunately, with an expanded skill set, not only will employees feel more empowered, but they'll also have more tools to help your organization—a win-win scenario. When starting a professional development program, leverage the expertise you have within your organization.
For instance, senior employees can serve as mentors and help mentees sharpen both their soft skills and technical skills; gain practical knowledge, institutional insights and hands-on guidance; and become more valuable and versatile employees.
Reinforce Your Workplace Culture
As employers transition toward a hybrid workforce to address the challenges presented by the pandemic, fostering a workplace culture that is consistent both online and in-person has become more challenging. So, consider what matters
most to the employees in your organization. If diversity and inclusion is a priority, remote work can provide the opportunity to bring in hires from around the world who otherwise would not be available. Similarly, if professional development and
mentorship are most important, think about how online tools can be used to foster these types of relationships.
Employee Benefits & Wellbeing
The right employee benefits can be influential when workers are considering resignation. According to Prudential's Road to Resiliency study, threequarters of all talent surveyed factor benefits into their decision regarding whether to stay or leave a job.

Namely, benefits can include items like insurance, equipment allowances or childcare, but can also cover things like gym memberships, reimbursements for phone bills or weekly coffee allowances. What's more, benefits focused on employee wellbeing—such as providing therapy vouchers or additional paid time off (PTO) for leisure activities or to take care of themselves and their families—can go a long way to engender greater loyalty in your workforce
Conduct Stay Interviews
In some ways, "stay" interviews are similar to exit interviews; they're both used to identify reasons employees like or dislike their job. They can also uncover concerns or issues that an employer may be unaware of.
However, stay interviews can actually be more valuable than exit interviews because they provide insights that employers can leverage to motivate and retain employees before they decide to leave. Questions to ask during a stay interview:
What keeps you working here?
What do you enjoy about your job?
What would cause you to leave the company?
What would you like to change about your job,
team or department?
If you could change one thing about the
company, what would it be?
Have you ever thought about leaving the
organization?
What motivates you at work?
Do you feel appreciated in your role?
Where do you see yourself in five years?
Employers can use the information gleaned from stay interviews to guide company policy; make improvements in corporate culture; and keep talent engaged and wanting to stay. COVID-19 has profoundly changed what employees expect from employers, and attributing record-high resignations simply to salary concerns misses the bigger trends in growing the workplace.
In truth, the pandemic has changed the way employees work and how they view their employer. Now, many workers are reflecting on what a quality workplace feels like—and many are willing to quit to find a better one. As a result, reversing the tide of resignations in your organization requires leaders who care; who engage their teams honestly; and who give workers a sense of purpose, inspiration and motivation to
perform.

Retaining Talent Begins with Reevaulating
Whether that is achieved through flexible work policies, improving benefits, sharing common values or unique career opportunities, it's essential that you listen to your employees' needs, keep checking in on them, and work together to create a workplace that is not only able to serve you both, but one that can also make you both happy, as well.