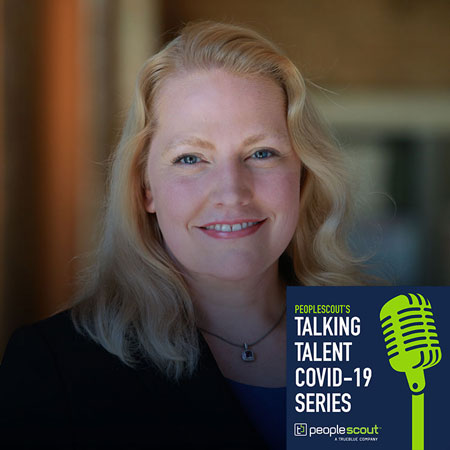 As organizations around the globe confront the challenges presented by the coronavirus (COVID-19) outbreak, even the most seasoned talent leaders find themselves in uncharted territory. We're creating a miniseries with our experts here at PeopleScout about the issues that are most pressing during this uncertain time.
We are focused on the safety of our employees and clients, friends, families and loved ones. However, it is important for many organizations to keep their talent acquisition functions moving – whether to provide essential services or to serve our communities by providing jobs. Many organizations are also now adapting to a newly virtual workforce.
In that spirit, in this podcast, we share insights from PeopleScout Global Leader of Affinix Client Success and Strategy Allison Brigden on transitioning to a virtual talent acquisition solution.
Allison has been with PeopleScout since 1995 and has served in roles related to implementing and managing complex RPO programs as well as operations and technology. In her current role, Allison focuses on leveraging technology to elevate the talent strategy and client success through Affinix, PeopleScout's proprietary talent technology platform. Allison leads an Affinix Client Success Team and our strategic technology partnerships. The Affinix Client Success Team is focused on understanding our clients' objectives with Affinix and creating positive outcomes. She also possesses a deep commitment to corporate social responsibility, with an emphasis on military veteran advocacy. Allison holds a bachelor's degree from the University of Utah.
At PeopleScout, we're all dealing with the same changes—working from home and recording these podcasts from a distance, so things may sound a bit different than you're used to hearing.