When people of different backgrounds with different experiences come together, they drive innovation—both in the workplace and in the world at large. In fact, there's substantial research that DE&I initiatives bring many advantages to the workplace, including increased profitability and creativity; greater productivity; and better problem-solving, among others.
Employees with diverse backgrounds also bring their own perspectives, ideas and experiences, which help to create organizations that are resilient and effective and that outperform organizations that do not invest in diversity.
Yet, despite the obvious benefits of increased diversity and inclusion in the workplace, the reality still leaves much to be desired. For instance, research from Boston Consulting Group shows that diversity and inclusion efforts have yielded sparse results: Although nearly all companies have programs in effect, only 25% of employees from diverse backgrounds feel they have personally benefited from them.
Clearly, employers must do more, and the responsibility for diversity, equity and inclusion (DE&I) belongs to the entire organization—including talent acquisition and HR leaders. So, in this article, we'll cover the different areas of the business that contribute to DE&I; how you can determine your DE&I program maturity; and areas where talent acquisition leaders can have the greatest influence.
So, Who's Responsible for DE&I Initiatives?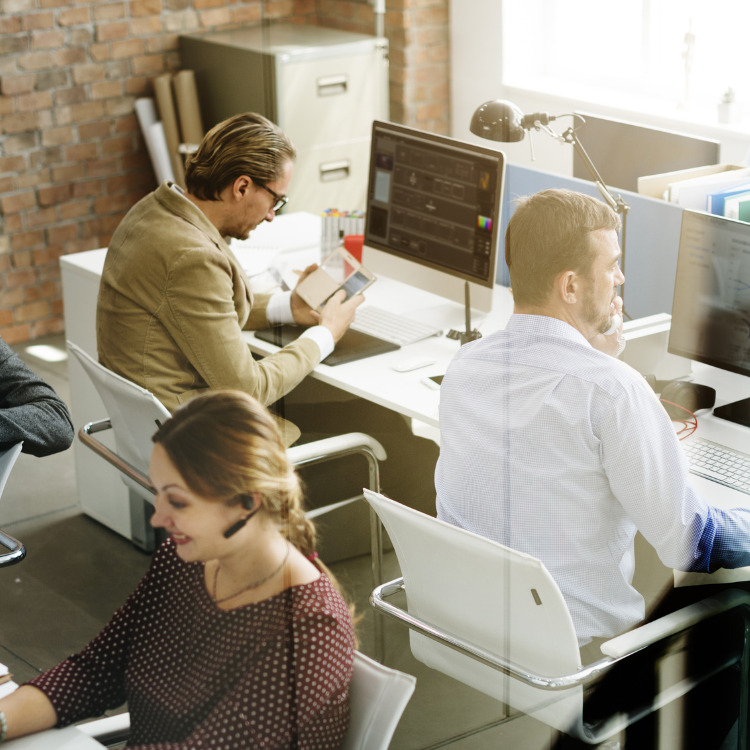 For years, talent acquisition teams have led diversity efforts within organizations. In some cases, employers hire a chief diversity officer (CDO) and provide a budget for DE&I initiatives. However, the responsibility for DE&I initiatives is much broader, and everyone from senior leaders to entry-level employees in everything from marketing to IT has a role in creating an inclusive workplace. Here, we outline the roles that different areas of the business play in DE&I efforts.
Talent Acquisition & HR
More than any other group or individual, talent acquisition and the broader HR organization are responsible for diversity and inclusion in the workplace. According to a Society for Human Resource Management (SHRM) survey, in 59% of organizations, HR and talent acquisition oversee diversity efforts and, at 64%, they're tasked with implementing diversity initiatives.
Leadership
An organization's leadership team is responsible for diversity outcomes at 25% of organizations, according to a Deloitte report. But, leadership must play a role in the DE&I initiatives at all organizations. In fact, having a C-suite member as the diversity and inclusion program leader is one of the biggest differentiators between organizations in which diversity is not considered a barrier to progression versus ones where it is, according to PwC's data.
However, to be successful champions of diversity, leadership needs to be fully engaged—because an inclusive and equitable culture must be present from the top down. Notably, if time and other responsibilities that accompany their jobs make it difficult for executives to be fully engaged, organizations may want to reconsider having their C-suite remain heavily involved in their diversity efforts. In this case, you might consider appointing another individual (or individuals) who is more able to focus on the work and, as a result, bring about more change.
Diversity Committees
Not every organization has the resources to support a full-time diversity role. In fact, the larger the employer, the more likely it is to have dedicated diversity staff, according to Xpert HR. However, as SHRM found, smaller organizations may be able to aid diversity and inclusion programs by taking a cue from the 17% of employers that have an advisory group/committee comprised of volunteer staff members. This can actually be quite an effective approach, as employee sponsorship corresponds with lower levels of reported bias within an organization, according to Center for Talent Innovation research.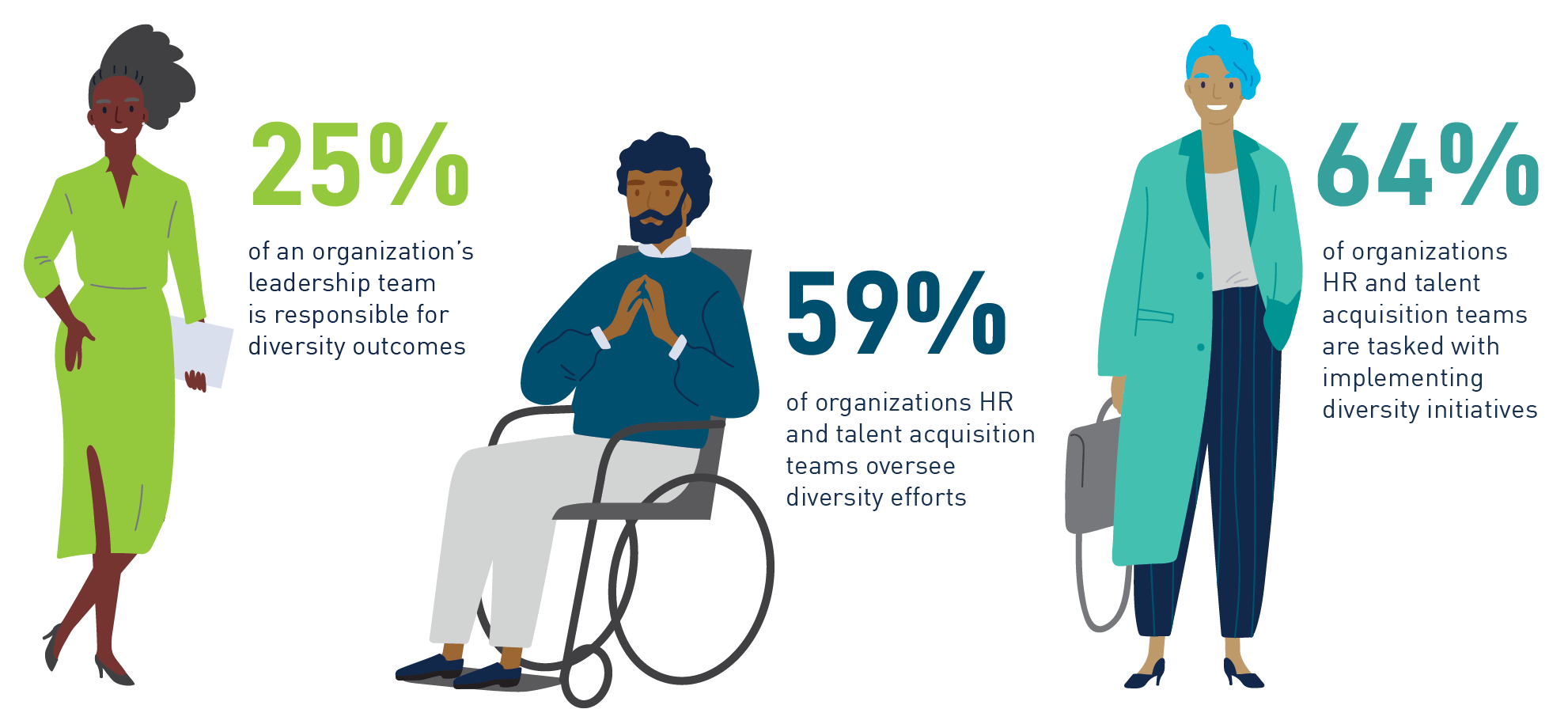 Identifying Gaps in the Maturity of Your DE&I Initiatives and Programs
When it comes to really progressing your organization's DE&I program, the best place to start is by asking yourself where your organization stands today. That way, you can best identify where to place your initial efforts in order to create the greatest influence. Below, we outline the different stages of DE&I program maturity. Note that your organization may be at different levels in different areas.
Beginner: Generally, employers at the beginner level of maturity tend to be more reactive rather than proactive; they may narrowly define workplace diversity, and leaders usually have limited involvement in driving DE&I forward within the organization.
Intermediate: Employers at the intermediate level typically focus on more purpose-driven DE&I initiatives, with leadership assuming a greater role in progressing DE&I in the workplace. At this level, the definition of diversity expands to include less-visible characteristics, like disability, religion, class, age, regionalism, sexual orientation and more. Additionally, at this stage, an employer may employ a dedicated staff and provide a budget for DE&I.
Advanced: Employers at the advanced stage focus on multi-dimensionality and intersectionality when thinking about diversity. In this situation, leaders practice inclusive leadership skills and are held accountable for creating a diverse and inclusive workplace. They also often have DE&I resources and budgets distributed throughout the organization to ensure organization-wide diversity.
Leading: Employers at this level take a sustainable approach to DE&I, in which leaders are expected to lead holistically and inclusively; be key DE&I initiatives change agents; and hold the organization accountable. In addition to their internal resources, they often have external DE&I advisory boards that guide them on leading practices.

Identifying your organization's DE&I maturity level allows you to better measure your progress on key areas of workforce diversity, including communication, employee education, company culture, resource investment and the involvement of leadership. This will help guide your next steps toward creating a more diverse, equitable and inclusive workforce, as well as allow your organization to focus on interventions that are targeted and specific. Plus, in organizational environments facing a multiplicity of DE&I issues at once, the ability to pinpoint current state, plot out the desired state and craft the roadmap to get there is critical.
What is DE&I? The Role of Talent Acquisition
While the responsibility for DE&I is spread across an organization, talent acquisition still plays a major role. Recruiters, sourcers, hiring managers and HR leaders are powerhouse roles that must work together to find the right candidate for the job, while also demonstrating an organization's commitment to DE&I from the company's first interactions with employees.
As talent acquisition leaders, you also play a key role in bringing to life diversity and inclusion as values that are deeply embedded in an organization. More precisely, your team plays a particularly critical role by sourcing, engaging and eventually hiring candidates from underrepresented groups.
Does your organization have a talent pool of diverse candidates? Do your interviewing practices reduce unconscious bias? Do you have a strong reputation for being a diverse workplace? These are some of the critical questions that you and your teams should attempt to answer to deliver on the organization's diversity agenda.
By understanding your role and performing it effectively, talent acquisition teams can work with leaders in other areas of the business to build a truly holistic DE&I program. Here, we discuss some of the tactics that talent acquisition can adopt to overcome diversity sourcing, selection and hiring challenges.
Championing Diversity
Once your talent acquisition team establishes awareness and accountability, members should become champions of diversity hiring; you have a tremendous opportunity to drive the diversity agenda by reinforcing the case for diversity hiring. For instance, engaged recruiters can champion diversity and make it an everyday dialogue with hiring managers. That's because recruiters are responsible for ensuring that all candidates are treated fairly and equally in a process that removes bias. They're also the first step in demonstrating how the organization appreciates and celebrates its diverse employees.
Diversity Sourcing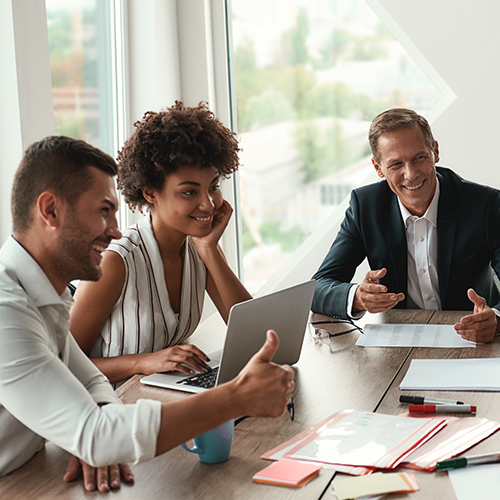 To ensure that your talent pool is representative of diverse candidates, source your candidates from a variety of talent channels. Clearly, you can't rely on the same sources repeatedly when seeking out new candidates; focusing only on the sources that you know best can result in a talent pool of similar candidates and a lack of diversity.
Instead, seek out opportunities to source candidates from underrepresented backgrounds. For example, there are many online and offline groups dedicated to women in technology. This could be a great opportunity to meet and connect with high-caliber, female candidates directly—instead of waiting for them to find you through platforms like Indeed. And, the more initiative you take to find these channels, the more likely it is that your talent pools will be diverse.
What's more, if you're struggling to find diverse talent, reach out to employees from diverse backgrounds and encourage them to share your job ads with their networks; then, give them the tools they need to promote open roles within your organization. As a result, your employees and candidates will both feel that your company values their opinions and contributions, which is fantastic for team morale and engagement.
DE&I Initiatives: Building Inclusivity
Building an inclusive workplace is central to creating a workplace environment in which every employee feels valued. Granted, every organization is different, so the content and structure of an inclusion program needs to meet the conditions of your organization. To get you started, SHRM offers an inclusivity checklist for HR that provides a good place to start:
Make sure that company leaders understand that inclusion is about ensuring that everyone's voice is heard, opinions are considered, and value to the team is evident.
Train managers to show that inclusivity is a core competency—and hold them accountable.
Form an inclusion council with genuine influence and power.
Value differences and create an environment in which people can feel comfortable bringing their authentic selves to work.
Identify the needs of underrepresented groups, and give them the necessary support and resources.
Provide workers with a safe space to voice their concerns.
Benchmark key aspects of your organization's culture and understand the employee experience before making changes to promote inclusivity.
Remember that daily interactions are the most telling sign of whether your company has an inclusive culture.
Unconscious Bias & Candidate Selection
One of the key reasons companies lose out on diverse talent is unconscious bias, which can have detrimental effects on the diversity hiring process. The concept of unconscious bias or implicit bias was first introduced in 2006 as "the new science of unconscious mental processes that has a substantial bearing on discrimination law."This challenged the longstanding idea that people are guided only by explicit beliefs and conscious intentions.
One example of unconscious bias is that a candidate's last name—which implies their ethnic background—can adversely affect their chances of landing a job. Unfortunately, studies by Ghent University show that the last name appearing on a candidate's résumé can reduce the possibility of receiving a call back by 25% in Germany; 29% in Sweden and the UK; and 50% in the U.S. Accordingly, to address unconscious biases, some companies mask candidate demographics while presenting them to the hiring team in order to shift the focus from ethnicity to experience and skills.
In another strategy highlighted by DiversityJobs, a large utility company in the U.S. moved away from the practice of long interviews with a few leaders and started exposing candidates to more interviewers in multiple, short interviews. This reduced the chance of a single, biased assessor significantly influencing a hiring decision. Additionally, the organization was also able to showcase a more diverse selection team to all new hires.
Diversity at Work: Converting Candidates From Underrepresented Groups Into Employees
However, winning over diverse candidates goes beyond just locating them and ensuring that they're treated fairly during the hiring process. Rather, to win diverse talent, organizations should demonstrate the authenticity of their commitment to DE&I by leveraging their employer brand through career sites and social media channels, as well as by showing how diverse and inclusive they are through their employees and leadership.
Furthermore, talent acquisition can also play a role in reinforcing these messages by:
Adding a link to diversity and inclusion policies and practices in job advertisements and recruiters' email signatures.
Minimizing adverse effects of recruitment discrimination by complementing recruiters with talent acquisition technologies like PeopleScout's AffinixTM.
Ensuring job-related information is accessible to all groups. (For example, ensure your career site is accessible to those with visual impairments through design, alt text and screen readers; and ensure presentations and videos include subtitles or sign language.)
Scheduling interviews in locations that are accessible and convenient for all candidates, such as parking for people with disabilities; Braille script on elevators and signage; and female, male and gender-neutral restrooms.
Sharing relevant stories about a diverse set of employees in the organization and involving diverse employees and senior leaders in the interviewing process.
Respecting candidates' gender identity. Because gender identity is internal, a person's gender identity is not necessarily visible to others, so asking candidates what pronoun(s) they prefer to use in interviews and other communications can make a difference.
DE&I Initiatives: Talent Technology
The right talent acquisition technology can be a powerful tool for reaching your DE&I initiatives and goals. And, as you begin to recognize and fix disparities in hiring processes and work environments, data can be an important tool in determining the effectiveness of those efforts. No DE&I initiative can be successful unless it can be measured.
To that end, diversity dashboards—like those available in PeopleScout's Affinix Analytics—can break down your hires by gender and ethnicity. Then, with that information, you can identify where the most diverse hires have been found. From there, you can focus on which recruitment strategies are most effective in bringing in candidates form underrepresented groups. And, once those initiatives are in place, you can track your success over time.
The goal of diversity, equity and inclusion in the workplace should be a central pillar in any organization's journey. Embracing a multitude of viewpoints and cultures drives innovation; improves decision-making; increases employee productivity and retention; and leads to better-served employees—and, by extension, customers. While responsibility for diversity, equity and inclusion is shared across an organization, talent acquisition leaders have a significant influence.