After building a strong EVP and employer brand, employers face the challenge of effectively promoting and marketing that brand to candidates and employees. The roll-out and management of an employer brand platform is just as important as the care taken to research and craft that positioning.


For many organizations, it's easy to show enthusiasm while developing a new EVP, but that same enthusiasm needs to continue through the internal and external launches.


A Cornell University report* identifies several tangible benefits of a strong employment brand:


Organizations with an employer brand platform experience an average turnover rate of 10%; the overall turnover average is as high as 16%.
When organizations live up to their marketed EVP, new employees arrive with a higher level of commitment at 38%, compared to organizations that don't live up to their marketed EVP, which are at just 9%.
As an employer brand progresses, employees buy in to the new corporate culture, which increases their motivation.
A strong employer brand can increase employee engagement, even through periods where employee headcount is reduced and salary raises are controlled.
In organizations with a developed employer brand, employees are more engaged in the decision-making and management process.
*"Is There a Correlation for Companies with a Strong Employment Brand Between Employee Engagement Levels and Bottom Line Results?"


As a refresher:


Employer brand: Your employer brand is the perception and lived experiences of what it's like to work for your organization.


Employer value proposition: Your employer value proposition, or EVP, captures the essence of your uniqueness as an employer and the give and get between you and your employees.


Employer brand platform: The creative communications you create and distribute based on your employer value proposition that guides the perception of your employer brand in the marketplace.


Starting from the Inside Out
The internal launch of an EVP and employer branding platform lays the groundwork for the success of the external launch. To make the internal launch successful, you need to bring the EVP to life so employees understand and embrace it. When employees are engaged with your employer brand, they will become brand ambassadors.


The careful process of gathering insights within your organization, which occurs during the discovery phase is key to a successful internal launch because employees need to recognize their own reality in a new EVP. If an EVP and employer brand platform doesn't resonate with current employees, you will struggle to develop advocates and champions of the brand.


An effective internal rollout needs to accomplish these four steps to create advocates and amplify the brand:


The leadership team and hiring managers should know and understand the elevator pitch of your organization.


The people who are on the frontlines interacting with candidates represent your brand and should be able to articulate your EVP consistently. If you don't have an effective internal rollout, your external message will not be consistent. These brand ambassadors should be trained on the talking points and should practice sharing the pitch with candidates.


Recruiters know where they can find materials to share your message and how they can reach out to their networks.


Your current employees can also function as brand ambassadors and can create valuable marketing opportunities. They should clearly understand and identify with your new EVP, and they should have the tools they need to share that messaging with their networks. A successful internal launch should ensure they have access to a library or media toolkit of employer branding material, and they should be encouraged to use it. This should include videos, images and even messaging for social media that employees can copy and paste to enable employees – ranging from recruiters to outgoing workers with large networks – to share online.


Your employees should feel empowered to share your message and refer strong candidates.


During your internal launch, encourage employees to share your brand culture and their experiences with their networks. In large organizations, this can be a challenge, but it is a culture you can build through team conversations and highlighting examples of your EVP in action. With this, you can encourage employees to share their own experiences.


Identify talent scouts, a type of employee brand ambassador who can identify people in their networks and encourage them to join your organization.


Some of your current employees will have strong networks and will excel at finding people in those networks with "the right stuff" to succeed at your organization. Some employees will also have the opportunity to share your employer brand at speaking engagements, conferences and other industry events – even if those events aren't directly related to employer branding.


Launching a new employer brand platform is an opportunity for a renewed focus on employee referrals. Current employees who can understand and articulate your EVP can point you to people in their networks who may also be a good fit.


To drive increased referrals for our client, Virgin Media, we revamped its referrals site to make the employer brand the heart of the site. Additionally, we helped the organization communicate the EVP to current employees so they could identify the organization's "kind of people." Less than one year later, referrals increased from 10% to 25% of external hiring; staff participation increase by 40%; the organization saved an average of $9,000 per hire; and the quality of hires increased.


Bringing your EVP to Life Through the Candidate Experience
After a successful internal launch, in which your employees understand your EVP and brand ambassadors have the tools they need to share your message, you will be ready to launch your employer brand platform externally through your candidate experience. This launch should be a multifaceted approach driven by the audience insights you gleaned during the earlier stages of EVP development. Before you launch externally, you should understand the types of candidates you want to attract, what type of media they consume, where they are and how you can speak to them. As you build out your employer branding platform, vary your media and messaging to speak directly to those audiences.


Below are several external employer branding platforms and examples from Virgin Media. Virgin has a large workforce and needs employees who can support its organization today and adapt for the future. The company struggled to fill senior corporate roles, field sales advisors and part-time retail positions. We helped build an EVP that emphasized the open-minded, less corporate, fast and flexible culture of Virgin Media.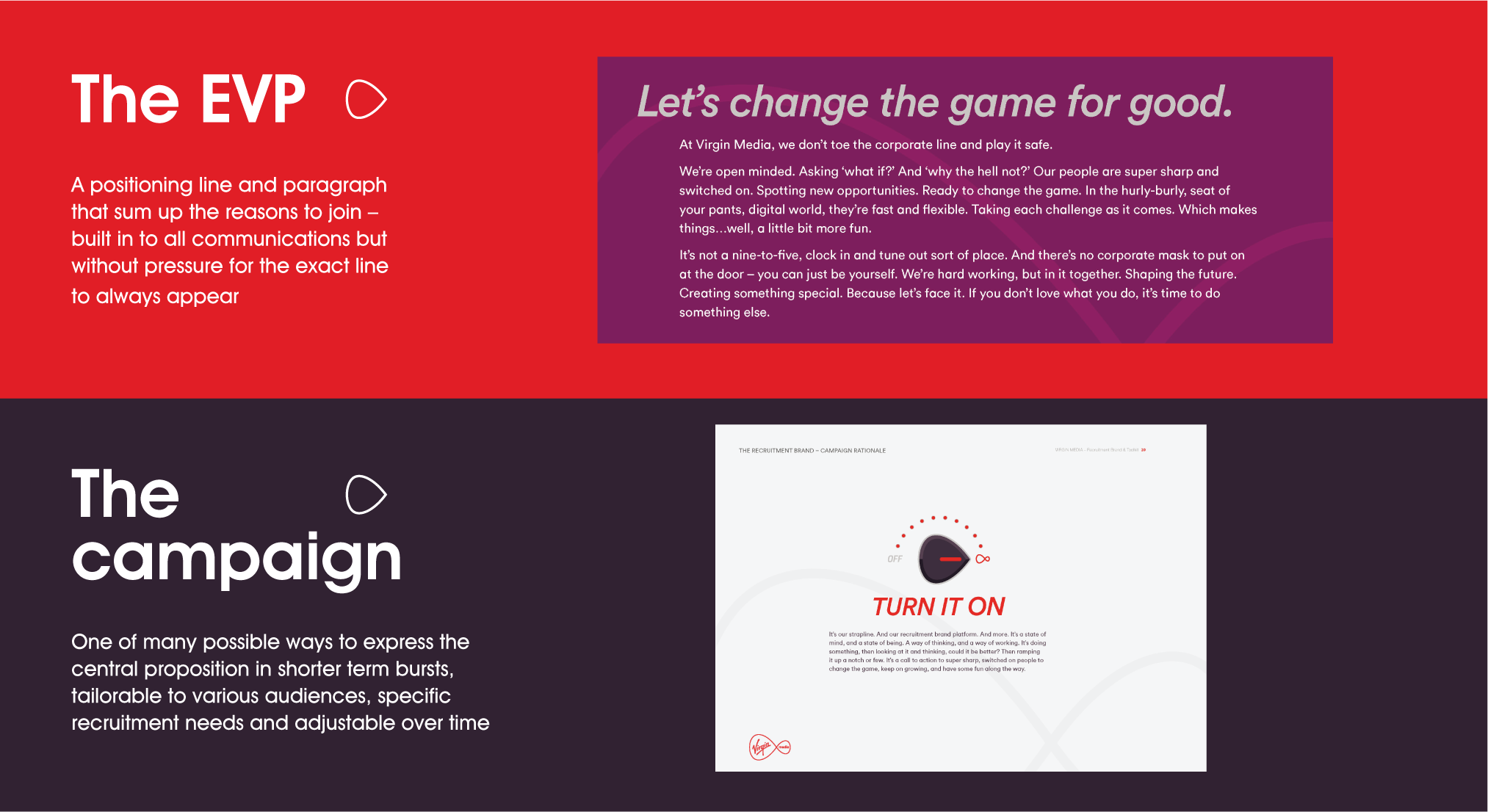 Brand Ambassadors


Your candidate experience starts with the first time a candidate experiences your brand. In many cases, this could be by interacting with a brand ambassador, like an employee who shares job openings and encourages people in their network to apply.


According to Marketing Week, nearly 70 percent of consumers don't trust advertising and 42 percent don't trust brands. Additionally, nearly six in 10 consumers don't trust brand communication unless they see "real-world proof" of the message.


In an employer branding campaign, your employees functioning as brand ambassadors can provide that real-world proof. Changing algorithms on social media sites also make the voice of the employee louder than the voice of the brand. Facebook changed its algorithm in early 2018 to favor content from friends and family as part of the company's response to the platform being used to spread disinformation, according to Wired. This means that messaging from employees will reach more people than messaging from your brand, and you should match your strategy to this reality.


Recruitment Toolkits


To make sure your brand ambassadors can share your message effectively, build a media toolkit that recruiters can use to find images, videos or even text they can copy and paste to share your message. This also ensures you have some control over what employees post and share so that it ties to a consistent message. This toolkit should include things like video, shareable social media images, guidelines, ideas, templates and even pieces of prewritten copy and design elements that employees can piece together. These pieces of media should be stored where employees can easily access them, but the storage method will depend on what technology your organization already has in place, such as an intranet or a platform like SharePoint.


The assets should be varied, using different messages to target the variety of audiences you've identified during the research and development stage. Using this library, recruiters and hiring managers can easily share high-quality, specific images, video or text with their networks, which improves efficiency and extends the reach of your brand.


For Virgin Media, we created a toolkit with more than 100 different pieces of media to make it fast and easy for recruiters to disseminate brand communications. To help tackle their challenge of attracting candidates for senior corporate roles, we produced online video content in an informal and unpolished style. It showcased a day in the life of an employee at different office locations, and we made it available through the toolkit. After these videos were shared on social media by recruiters and other employees and on specialist job boards the number of the number of days-to-offer decreased by 44% for management accountant roles and by 26% for analyst roles.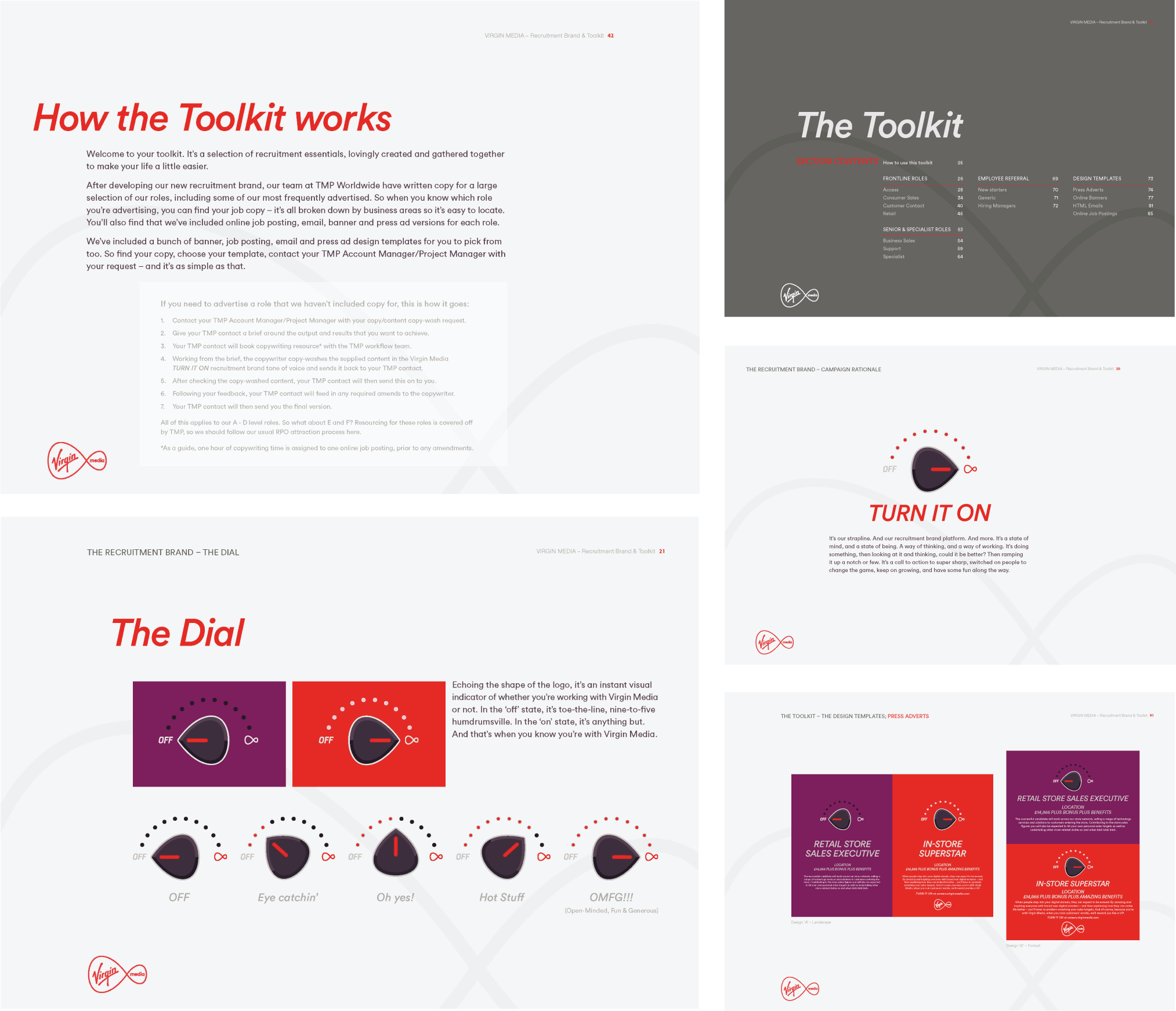 Personalized Career Sites


A career site with personalized content will help reach the different types of candidates you want to attract to your organization. It is no longer enough to brand your career site with a one-size-fits-all approach. Certain candidates may be drawn in by the social purpose of your organization. Others may be looking for career advice. Your site should speak to all of them.


For Virgin Media, we created a clean, compelling recruitment brand destination that is easy to use. The careers site laid out the EVP through web copy, and the site also included personalized information for candidates for the wide variety of roles.


To support the hiring of part-time retail employees, the career site heavily featured these roles – listing them as hot jobs on the home page. This strategy, combined with new imagery from the employer branding platform and promotion on social media and relevant job boards, increased applications for these roles by 107 percent.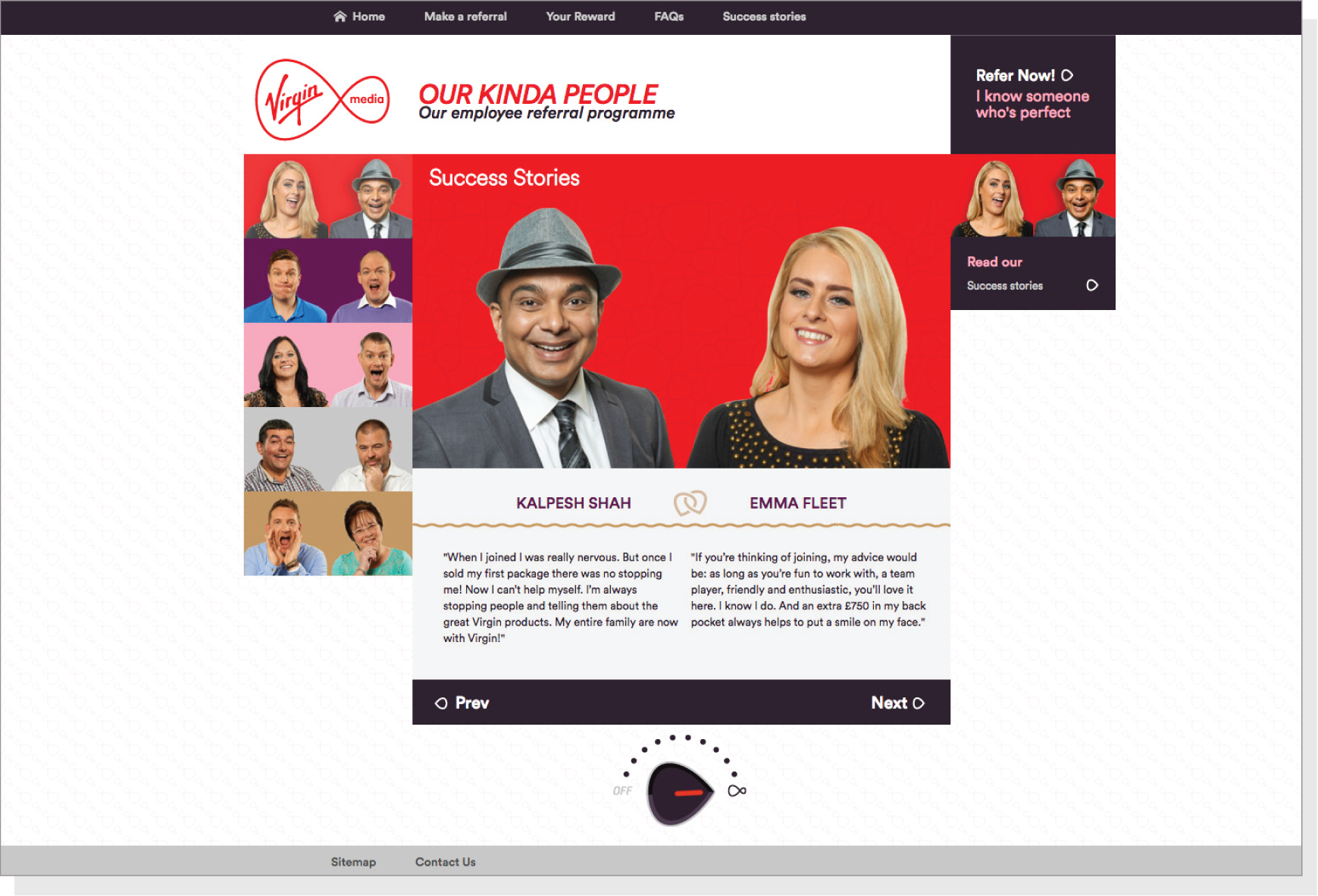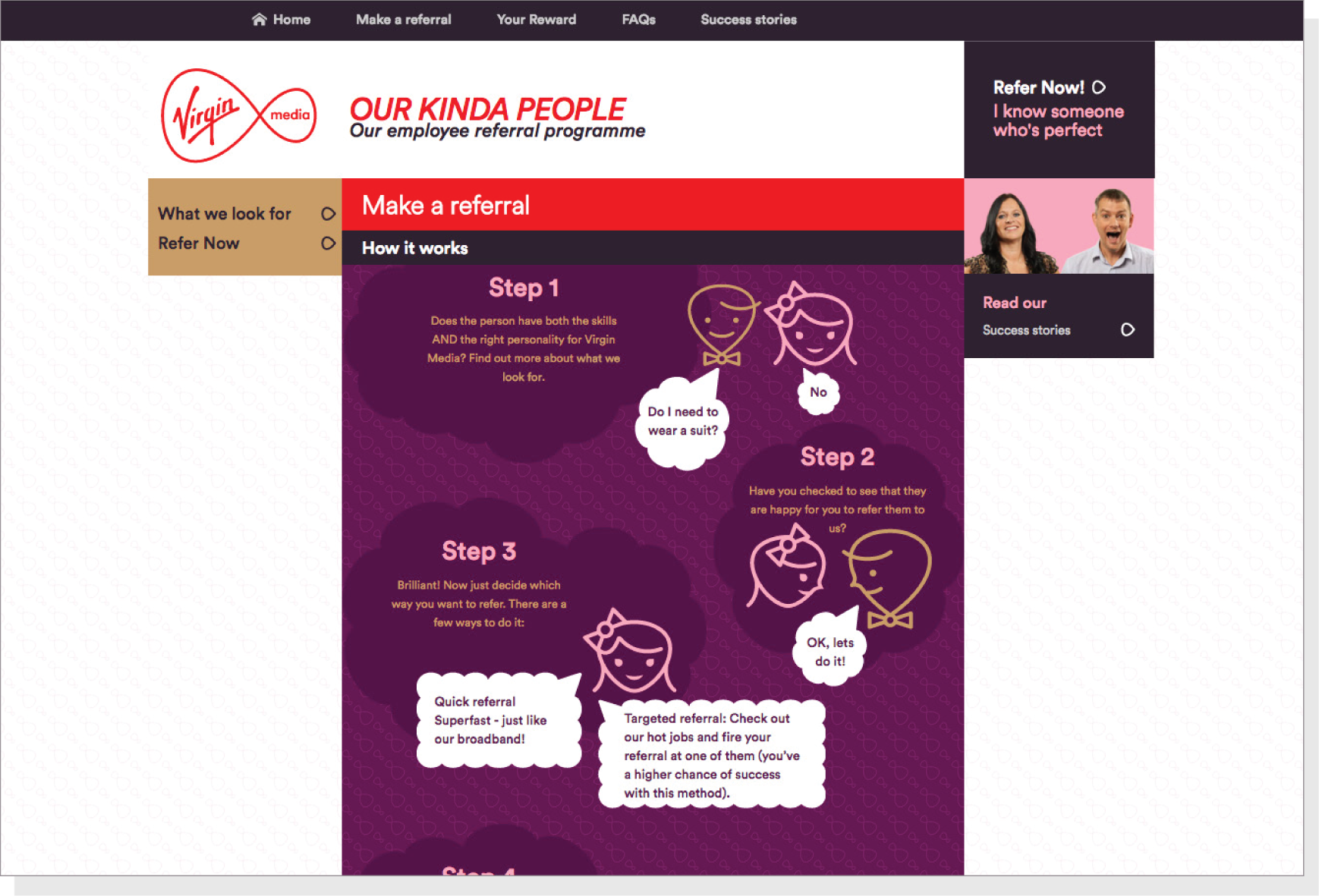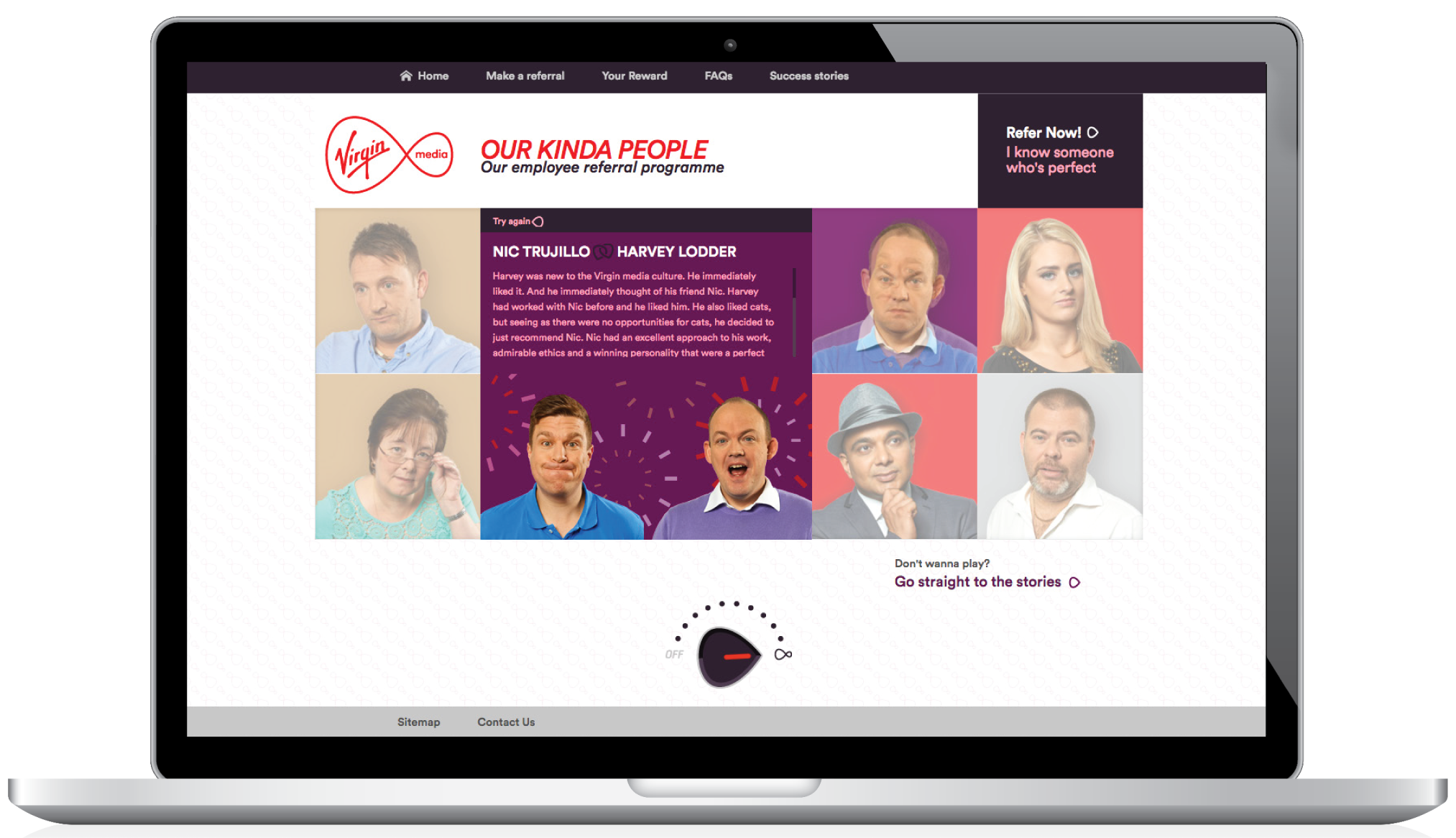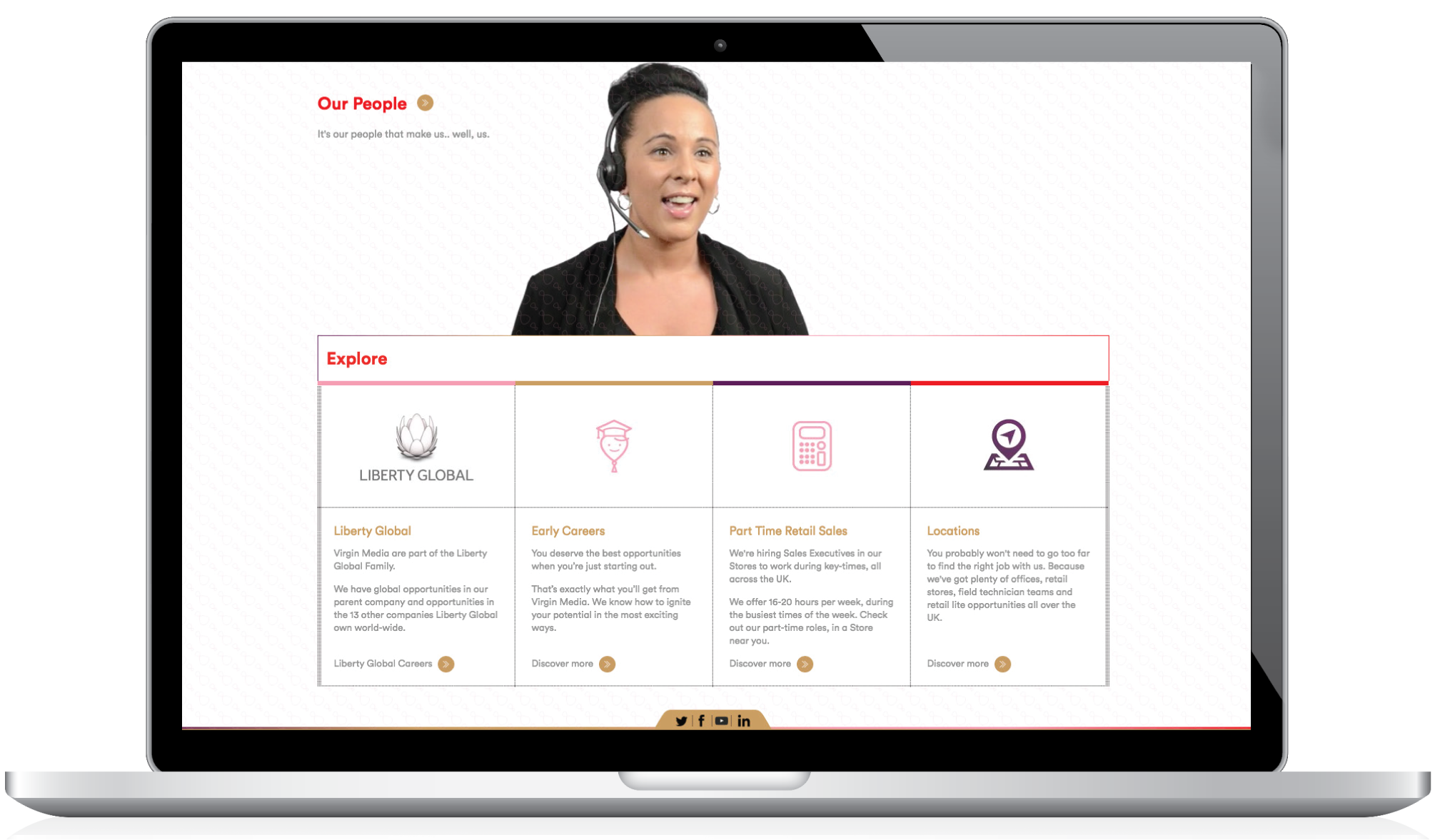 Onboarding


Your employer branding platform cannot simply end with the offer letter. Between being offered a job and joining the organization, you want these future employees to feel like they are part of something. An onboarding process that reflects your EVP will validate a new hire's choice and underscore the EVP communicated during the hiring process. Your onboarding process should bring the culture of your organization to life in a way that's tailored to each role.


We updated the internal onboarding site for Virgin Media with information about locations, benefits, the company's vision and values, frequently asked questions and information about the people they need to know and who they can go to for help. The new site saw double the average number of pages viewed per visit and people spent 2.5 times longer on the website.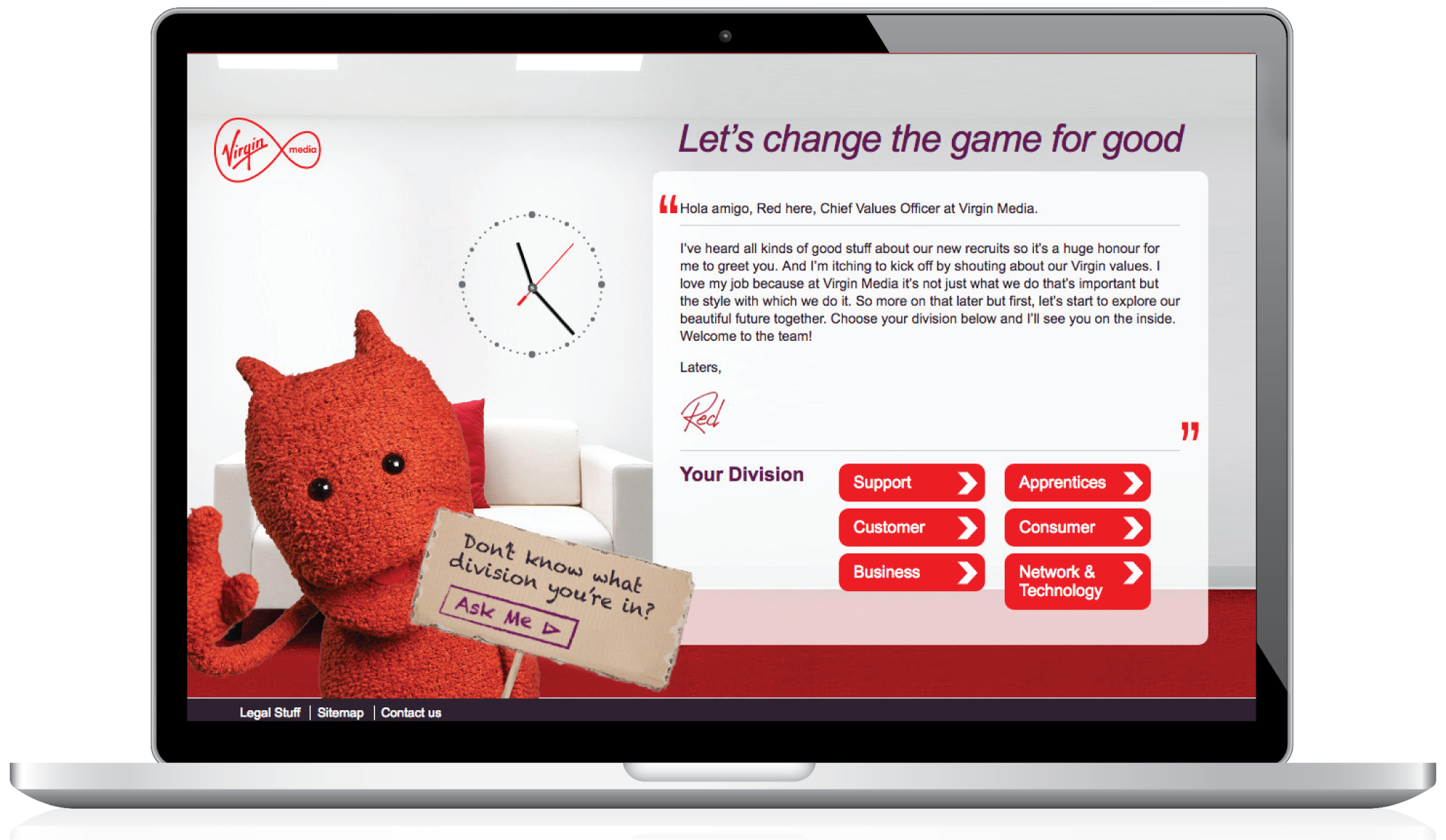 Keeping it Dynamic
After undertaking an internal and external launch, it can be daunting to keep an EVP dynamic so it changes as your organization evolves. However, if you create, launch and measure the success of your EVP with that in mind, the process will be much easier.


The majority of the data collected during the initial research stage is likely data you continuously monitor on your career site through job applications, from new hires and through employee pulse surveys. With these sources of data, you can optimize hiring metrics through AB testing and tracking and refine your message as your organization evolves in the future. By testing this way, you can see what works. For example, you could experiment with different images or a message that emphasizes a certain aspect of your EVP and see if the right candidates respond.


If you created an EVP that is truly unique and authentic yet aspirational, the DNA at the core of your employer brand will remain true as you move forward. However, as you monitor success, data will show which messages are effective with each audience. Armed with that information, your employer brand should grow and flex as you face new challenges.


Finding an EVP Partner
If your organization is looking to develop and launch a new EVP and employer brand platform, an outside partner is valuable because you are often too close to see your organization from a candidate's perspective. You may also lack the internal expertise and bandwidth. Here are three things to consider when looking for an EVP and employer brand partner:


Look for a partner that goes beyond an academic exercise of presenting data about "what people want" and instead takes a more bespoke approach to develop an EVP and platform that is fully tailored to you. Ask what that partner will do to get under the skin of your organization to define what is authentic for you.
Your talent advisory partner should be future-focused and understand the cultural, economic and geographic differences of the employees who work at your organization and the candidates you want to attract. Ask how they will be able to shift your communications and messaging to speak to different audiences.
Ask a potential partner how they translate the quantitative and qualitative data they collect into stories that will resonate with your audiences and stand out from the crowd.
Key Takeaways
The launch and management of an EVP and employer branding platform are just as important as the research and development stages.
A successful internal launch needs to be the first step so you can develop brand ambassadors.
Your external launch should be a multifaceted, research-driven approach that speaks to your audiences through every step of their candidate journey.
This is the third article in a series. Read the first article, Employer Value Proposition and Employer Branding: Time for Change is Here and the second article, Employer Value Proposition and Employer Branding: Building an Employer Value Proposition and Employer Brand for the Future.