The month of June was designated LGBTQ+ Pride Month in remembrance of the Stonewall Uprising that occurred on June 28, 1969, when LGBTQ+ patrons of New York City's Stonewall Inn clashed with police after the bar was raided. As people around the world commemorate this watershed moment for LGBTQ+ rights, it's important for employers to have a deep understanding of the history and effect of these events in order to support employees and candidates.
The year after the uprising, marches were organized in New York City, Los Angeles and Chicago to commemorate the events of Stonewall and advance LGBTQ+ civil rights. Today, across the globe, numerous memorials, events and pride parades happen all month long to recognize the influence, struggle and triumphs of the LGBTQ+ community.
The events of Stonewall and the activism it inspired in its wake have helped spread the importance of LGBTQ+ equality and inclusion and the dangers of LGBTQ+ discrimination. This is evidenced by the increasing acceptance of the LGBTQ+ community across all age groups, but especially among younger generations — including Millennials and Generation Z — who are taking up larger parts of the workforce each year. In fact, according to a Gallup survey, the number of U.S. adults who identify as LGBTQ has more than double in a decade, from 3.5% in 2012 to 7.1% in 2022 — largely driven by people aged 25 and under.
Consequently, organizations looking to recruit the next generation of top talent need to be inclusive of LGBTQ+ employees and job-seekers in their policies, workplace culture, and talent acquisition strategy. That's because, not only are LGBTQ+ people more likely to work for inclusive organizations, but so are their allies, 72% of whom said they were more likely to accept a job at an inclusive employer.
So, whether your organization is just beginning its diversity and inclusion journey or you're looking for additional strategies to improve your diversity program, it's always a good idea to brush up on the history, needs, and concerns of historically marginalized groups to better understand, engage and recruit in an increasingly diverse talent landscape.
Here, we provide a historical look at LGBTQ+ activism and its victories in the fight for workplace equity.
Dig Deeper
Diversity & the Candidate Experience: Identifying Recruitment Pitfalls to Improve DE&I Outcome
Heartbreaks & Triumphs: Milestones in the Fight for LGBTQ+ Equality in the Workplace
After the passage of the Civil Rights Act of 1964 in the United States, brave activists participated in a series of demonstrations for employment protections. At the same time, activists worldwide were also fighting for change, creating a global movement for LGBTQ+ rights. This timeline represents the struggles endured – and triumphs won – in the fight for LGBTQ+ rights in the workplace.
1924: Henry Gerber founded the first gay rights organization, The Society for Human Rights. It aimed "to promote and protect the rights of LGBTQ+ people, including the right to work."
1969: Patrons of the Stonewall Inn in New York City clashed with police, who attempted to raid the establishment. The event is credited with igniting the modern LGBTQ+ rights movement.
1974: Rep. Bella Abzug (D-NY), along with Rep. Ed Koch (D-NY), introduced the Equality Act, which would have amended the Civil Rights Act of 1964 to include sexual orientation under the protected classes for employment.
1982: Wisconsin became the first U.S. state to outlaw discrimination based on sexual orientation.
1996: The United States Supreme Court decided that Colorado's second amendment – which denied gay and lesbian people protections against discrimination – was unconstitutional, calling them "special rights."
2009: President Obama signed a Presidential Memorandum allowing same-sex partners of federal employees to receive certain benefits.
2010: The U.S. Senate voted to repeal the "Don't Ask, Don't Tell" policy, allowing gay and lesbian people to serve openly in the U.S. military.
2015: The U.S. Supreme Court declared same-sex marriage legal in all 50 states.
June 2020: The Supreme Court of the United States (SCOTUS) affirmed that LGBTQ+ workers were protected from discrimination under the Civil Rights Act of 1964 – a landmark decision.
To engage a new generation of workers and clients – many of whom choose careers, products, and services based on businesses' diversity and inclusion practices – organizations must reexamine their workplace culture and policies. In the next section, we provide guidance and strategies to make your recruiting and talent management programs as inclusive as possible and how to address LGBTQ+ issues in the workplace, as well as what steps you can take now to make your organization more inclusive for LGBTQ+ employees and candidates.
---
Strategies to Promote and Support LGBTQ+ Inclusion in the Workplace
While the June 2020 SCOTUS ruling represented major progress for LGBTQ+ civil rights in the U.S., there is still much work to be done to ensure every workplace has inclusive policies and practices in place. Specifically, the Human Rights Campaign's report, A Workplace Divided: Understanding the Climate for LGBTQ Workers Nationwide, found the following LGBTQ+ discrimination facts:
1in 5 LGBTQ+ workers reported having been told, or had coworkers imply, that they should dress in a more feminine or masculine manner
53% of LGBTQ+ workers reported hearing jokes about lesbian or gay people at least once in a while
31% of LGBTQ+ workers said they had felt unhappy or depressed at work
The top reason LGBTQ+ workers didn't report negative comments they heard about LGBTQ+ people to a supervisor or human resources was because they didn't think anything would be done about it – and they didn't want to hurt their relationships with coworkers.
Therefore, strong policies against LGBTQ+ discrimination in the workplace, benefits and other practices that include LGBTQ+ workers are essential for organizations as they compete for talent – now and in the future. Below are suggestions for how your organization can improve LGBTQ+ inclusion, as well as how to attract and engage candidates from the community.
Create a Formal Policy to Reduce LGBTQ+ Discrimination
If you want to display your commitment to LGBTQ+ workers, setting formal policies outlining your expected behaviors organization-wide is a good place to start. Not only is this important in terms of communicating your organization's support of LGBTQ+ employees and the community, but it also helps reduce compliance risks and costly discrimination litigation.
Specifically, the policies you put in place should support all employees' understanding of what type of behavior is inappropriate, while also clearly communicating that harassment and homophobia in the workplace will not be tolerated. In particular, your anti-discrimination and harassment policies should address sexual orientation, gender identity and gender expression as prohibited grounds of discrimination. You may also want to provide examples of what discrimination and harassment look like to further educate employees. Finally, be sure to check with your legal department before enacting formal policies to ensure you are in compliance.
Support LGBTQ+ Workers by Using Gender-Neutral Language
Likewise, using gender-neutral language when writing and speaking to employees and job candidates can go a long way in making members of the LGBTQ+ community feel visible and included. First, examine the language on your career site, in recruiting messaging, during interviews and in other internal policies to make sure the copy is not exclusionary. Furthermore, while reviewing your career site, consider all the ways that gendered language enforces stereotypes and erases the existence of genderqueer and gender non-binary people within organizations. For example, instead of using "he" or "he/she," it is acceptable – and, in some cases, preferred – to use "they" as a singular, gender-neutral pronoun. In fact, this is the practice of many major news and media outlets, such as The Washington Post.
Similarly, your organization should also review the language in your employee dress codes. For instance, instead of outlining appropriate workplace attire for men and women, you could simply state that all employees must dress to meet professional standards.
Reevaluate Your Benefits
Additionally, to ensure your benefits package meets the needs of LGBTQ+ employees, it's also important to understand their specific needs related to medical coverage, parental leave, bereavement and any other benefits you may offer. To that end, benefits that appeal to the needs of LGBTQ+ candidates are likely to attract more qualified candidates and help your employer brand stand out.
As an example, some organizations have progressive benefits packages that include coverage for drugs related to HIV/AIDs (including PrEP) and coverage for transition-related costs (including gender affirmation surgery.) Again, ensure you're using inclusive language and perform regular reviews to ensure your benefits package remains relevant to your LGBTQ+ employees.
Provide Training for Managers
Meanwhile, managers should also be invested in the care and wellbeing of those who work for them and are also responsible for ensuring their teams interact professionally and respectfully. Plus, managers are often the first point of contact for questions around health benefits, dress code, use of restrooms, etc. As such, it's important that they're able to answer questions confidently and respectfully – or know where to direct an employee if further support is needed.
Granted, some managers will defer any uncomfortable questions to HR for fear of saying the wrong thing. But, a manager who understands the organization's stance on these issues and is comfortable discussing it also sets the tone for inclusion in their department; training leads to confidence.
Support LGBTQ+ Employee Resource Groups
Employee Resource Groups (ERGs) are voluntary, employee-led groups made up of individuals who come together based on common interests, backgrounds, or demographic factors, such as gender, race or sexual orientation. ERGs provide safe places for people to meet, support each other and talk about issues related to the LGBTQ+ community in the workplace.
By supporting ERGs, you communicate to your workforce – and potential job candidates – that your organization supports the LGBTQ+ community. In turn, this can help boost retention and also improve your employer brand for job candidates researching your organization.
Support Gender Identity: Gender Neutral Policies for Talent Acquisition & Talent Management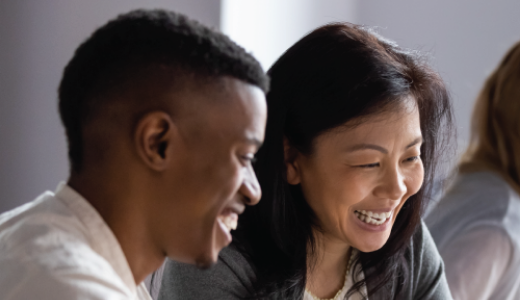 Gender transition refers to the process that some trans people undergo to affirm their gender identity. For some people, their transition may include changing their name and how they dress. As outlined by both the Human Rights Campaign and The 519's Creating Authentic Spaces, gender transition guidelines ensure that there is an institutional protocol on how to support an employee who transitions.
However, there is no singular way for a person to transition; this is a personal process that is defined by the individual and, as such, it's integral that these guidelines and any formal documents communicate that. Therefore, transition guidelines should delineate the responsibilities and expectations of supervisors, colleagues and other staff, as well as clearly state that any employee who wishes to transition will be supported.
Combating LGBTQ+ Discrimination in the Workplace: How to Support LGBTQ in the Workplace
If your organization is looking to have more of an influence in the LGBTQ+ community, you're not alone. Many organizations have played an important role in the progress of LGBTQ+ rights by displaying public acts of support and becoming regular sponsors of annual pride events around the world. As a matter of fact, a record 206 major corporations signed an amicus brief in the spring advocating for the Supreme Court's June 2020 decision protecting LGBTQ+ individuals from workplace discrimination.
At the same time, many organizations are also increasingly making business-critical decisions about recruitment practices, employee resource groups, and employer branding that embrace and welcome the LGBTQ+ community. Next, we'll outline how your organization can better support LBGTQ+ employees and the communities they represent.
LGBTQ+ Diversity and Your Supplier Network
While many organizations have a formal code of conduct for employees, fewer extend this code to their suppliers. Ensuring suppliers align with your organizational values around LGBTQ+ inclusion goes a long way toward supporting LGBTQ+ workers. For instance, consider where your organization orders office supplies, goes to for catering, hires for cleaning, etc. These are all examples of opportunities to support organizations that are committed to LGBTQ+ inclusion and diversity.
One of the best ways to get your organization in front of many diverse suppliers is through non-profit LGBTQ+ organizations that work to connect diverse suppliers with the corporations looking to do business with them. The following organizations are a good place to begin:
Updating Recruiting & Hiring Practices for the Future
Building an inclusive organization starts with recruiting and hiring a diverse set of employees. Unfortunately, conscious or unconscious bias against LGBTQ+ applicants can prevent them from getting hired, and prior studies found evidence of bias against LGBTQ+ job applicants.
Many LGBTQ+ workplace issues begin before a person is hired. The selection process can also be full of challenges for an LGBTQ+ person. For example, studies using résumés indicating that they belong to gay men, queer women and transgender applicants received fewer callbacks compared with résumés without any indication that the applicant was gay, queer or transgender, respectively. A similar study compared matched pairs of women – in which one woman in the pair was transgender – finding a net rate of discrimination of 42% against transgender applicants, illustrating LGBTQ+ employment discrimination is still a persistent issue.
Clearly, qualified applicants should not have to hide their identity to get a job. Yet, one in 10 LGBTQ+ people reported removing items from their résumé to hide their sexual orientation or gender identity (SOGI) from employers. Alternatively, strategies like blind résumé screening – removing names, gender signifiers and affinity-group affiliations – can help reduce unconscious bias in hiring decisions.
In the meantime, start training recruiters and hiring managers on the many forms of unconscious bias that play out in the hiring process to ensure they're selecting the best person for the job – regardless of perceived differences. For instance, consider whether your recruiters know how to interact with references who might not be aware of a previous employee's gender transition (for example, a candidate's previous employer may have known them by a different name and as a different gender).
Along the same lines, also consider where your job postings are advertised and how they're written: Do they use gendered language? Are they reaching a diverse range of communities and people? Also, consider posting to job boards and relevant publications that are geared toward LGBTQ+ communities.
Intersectionality & Inclusion
Many LGBTQ+ employees and job candidates are subject to discrimination based on their sexual orientation and other aspects of their identity. Furthermore, traits such as race, gender, religion and immigration status can also intersect, which may lead to the individual experiencing discrimination on multiple fronts.
Today, most diversity and inclusion efforts include equity as a dimension, which gives everyone equal opportunities to develop and considers their background and the unique challenges they face. But, because the LGBTQ+ workforce is not a monolithic group with a single set of experiences and needs, avoid categorizing LGBTQ+ employees as a siloed group when crafting your diversity and inclusion strategies. Instead, if you want to build a truly effective diversity and inclusion strategy, start with a foundation grounded in intersectionality, which provides a lens to create and refine innovative and meaningful solutions that truly include everyone.
Moreover, to combat LGBTQ+ discrimination in the workplace, analyze data on pay and employee engagement – separating out variables of race, gender, sexual orientation or physical ability – to get a better picture of intersectional challenges within your organization. While this approach may seem complex, it's necessary to improve inclusion. Also, note that intersectionality doesn't require creating countless subgroups for each possible intersection. Instead, diversity and inclusion leaders, as well as ERGs, should educate employees on intersectionality to help everyone understand all of the possible contextual life factors of their LGBTQ+ colleagues and the experiences that these unique identities create.

LGBTQ+ inclusion in the workplace is fundamentally the right thing to do, and making the business case can sway those on the fence about the importance of LGBTQ+ inclusion. But, ultimately, as talent professionals, providing a space for all employees to thrive and bring their authentic self to work is what's most important in the fight against LGBTQ+ discrimination in the workplace. As the march for equality continues, it's beneficial to use multiple strategies to achieve a world in which LGBTQ+ people are celebrated for their diversity and unique experiences.
Only 5% of organizations say they're succeeding with their DE&I initiatives. Download our free research report, Diversity & the Candidate Experience: Identifying Recruitment Pitfalls to Improve DE&I Outcomes, for insights into how to improve diversity recruitment outcomes.