As the world of work transforms, the healthcare industry is at the epicenter of change. The industry is growing rapidly and facing talent and skills shortages. At the same time, the accelerating pace of medical and technological advancements means medical professionals must constantly adapt to new breakthroughs and changing expectations. Talent acquisition and HR professionals need to be ready to meet the growing challenge. To do so, they must understand the full picture of the healthcare talent landscape.
A Generational Change
The industry is facing challenges in both supply and demand. Hospitals and Health Networks magazine calls the generational change "the most powerful force operating in our health system right now."
On the supply side, the baby boomer generation is reaching retirement age, and according to Becker's Hospital Review, one-third of practicing physicians are more than 55-years old and nearing retirement. Replacing doctors and surgeons who have decades of experience is challenging, as these careers require years of training, education and experience. The next generation in the workforce, Generation X, is relatively small. While the millennial generation is the largest generation in the workforce, the oldest millennials are only 36-years-old, and some are too young even to start medical school. As baby boomers retire, these generations will have to fill that gap.
Dig Deeper
How RPO Can Solve The Top Challenges In Healthcare Talent Acquisition
The large size of the baby boomer generation is also driving increased demand. Becker's Hospital Review reports that every day 10,000 Americans turn 65-years-old. At that age, two-thirds of people have at least one chronic disease. That leads to a lot of physician visits – an average of 40 per year for 20 percent of seniors. Caring for this aging generation will require even more healthcare professionals.
A Growing Industry
The healthcare industry is predicted to be the largest driver of growth in the U.S. economy through most of the next decade. According to the Labor Department's projections, the healthcare industry is expected to add 3.8 million new jobs by 2024. That's nearly 40 percent of all job growth expected over that period.
Spending numbers reflect the industry's rapid growth:
According to Health and Human Services, healthcare expenditures in the U.S. rose to 17.8 percent of GDP in 2015, and it could top 20 percent by 2025.
The same report shows Medicare spending grew 4.5 percent to $646.2 billion in 2015, and Medicaid spending grew 9.7 percent to $545.1 billion in the same year.
Prescription drug spending is also increasing. It went up 5.8 percent in 2016 to $323 billion, CNBC reports. It could go as high as $610 billion by 2021.
Much of this industry growth is driven by the aging baby boomer generation. According to the U.S. Census Bureau, between 2015 and 2029, the U.S. population 65-years-old and older will increase by nearly 50 percent. It's not just that the baby boomer generation is so large – according to a study JAMA Internal Medicine, baby boomers less healthy than previous generations. According to the study, baby boomers have a longer lifespan but higher rates of hypertension, high cholesterol, diabetes and obesity. This means the largest generation to reach retirement age will likely also need more healthcare than any previous generation.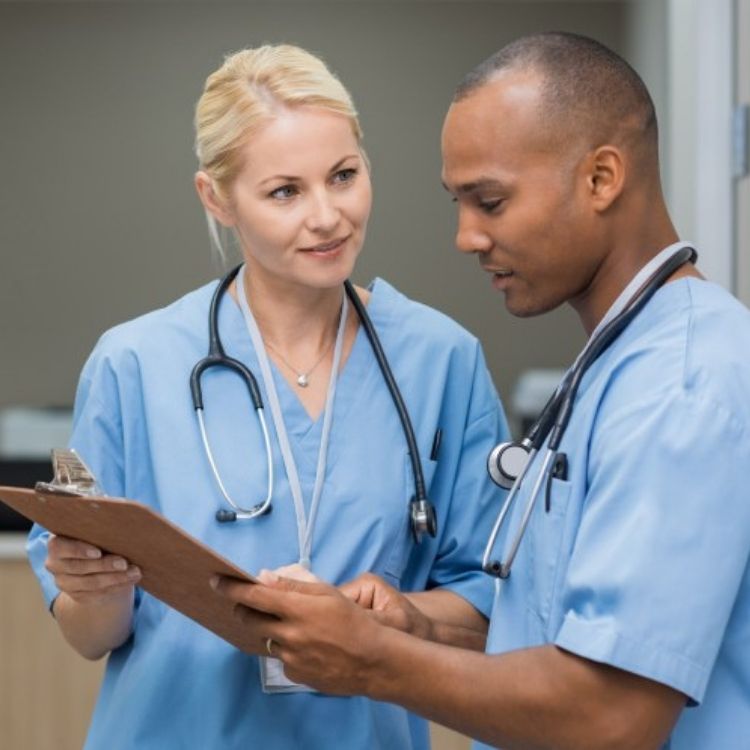 While doctors and nurses are the most visible employees in the healthcare industry, growth in the industry will impact positions throughout the sector. According to the Department of Labor, phlebotomists should see job growth of 25 percent between 2014 and 2024. An increase in patients, hospital visits and appointments will also call for an increase in support staff, like clinic support, medical technicians, billing and coding professionals and even non-clinical hospital staff like janitorial and food service. Because many of these positions require different skills and levels of education, experts say they'll all be impacted differently by increasing talent shortages.
A Healthcare Talent Shortage
As the need for more healthcare professionals increases, organizations are struggling to fill those roles. According to SHRM, 46 percent of HR professionals reported it was "very difficult" to fill full-time roles for high-skilled medical positions such as nurses, doctors and specialists. An additional 35 percent reported that hiring for those roles was "somewhat difficult."
According to that same SHRM survey, HR professionals in the healthcare industry report that their biggest challenge is a low number of applicants, an issue faced by nearly 60 percent of respondents. The HR professionals also reported competition from other employers, candidates who do not have necessary work experience and local markets that do not produce enough qualified candidates as significant factors leading to hiring challenges.
Experts predict the healthcare talent shortage will continue to increase. By 2025, the United States could face a physician shortage ranging between 61,700 and 94,700, according to the Association of American Medical Colleges. Experts say the reasons for this deficit extend beyond the retirement of baby boomers and increasing demand. Replacing retiring physicians with millennials presents a logistical challenge, as the oldest millennials are only in their mid-30's, and it takes 11-14 years of higher education to become a physician. Additionally, Becker's Hospital Review reports medical residencies are in short supply, medical school capacity is not increasing and more than one-third of physicians would not encourage young people to enter the field due to burnout and a lack of work-life balance.
The healthcare talent shortage also exists among nurses. The Atlantic reports that one-third of the registered nursing workforce will reach retirement age in the next 10 to 15 years. The RN workforce is also expected to grow 16 percent by 2024, according to the Labor Department. However, according to the American Association of Colleges of Nursing, the current nursing school system in the U.S. doesn't have the capacity to produce enough nurses to fill that gap. In fact, more than 64,000 qualified applicants were turned away from nursing schools in 2016 due to an insufficient number of faculty, clinical sites, classroom space and clinical preceptors, as well as budget constraints.
Less visible roles are also impacted by healthcare talent shortages. CNBC reports that the medical coding profession has been plagued for years by a 20 to 30 percent shortage of coders. Job growth for the position accelerated after the implementation of the Affordable Care Act, and experts expect that growth to continue along with the rest of the industry. According to the AACC, laboratory technicians are facing many of the same labor challenges as physicians and nurses. Many are reaching retirement age, and retirements are expected to accelerate due to the improving economy. Baby boomer laboratory technicians commonly put retirement plans on hold during the Great Recession. Replacing them will tough, as the number of students graduating from laboratory technician programs is declining. This causes a talent shortage of about 1,000 laboratory technicians per year.
A Transforming Workplace
In addition to the talent challenges, the healthcare industry is not immune to the changes impacting organizations across the country – like the digitization of services and the growing gig economy. The healthcare industry is always experiencing change due to technological advancement, medical research and new regulations. However, to adapt to these trends, organizations will need to seek out talent in different ways and find people with new skill sets.
The CHRO of Kaiser Permanente told Forbes the healthcare industry is already starting to provide care in new and different ways. E-visits and mini-clinics are growing in popularity. Jobs in these types of workplaces require different technology and communication skills than more traditional office and clinic jobs. They also pose challenges for HR professionals in sustaining a team-oriented culture because teams in mini-clinics are often small, and for e-visits, teams may be virtual.
While many think of the gig economy as a place for creatives or rideshare drivers, the contingent workforce is taking on a greater role in healthcare. STAT reports that hospitals are turning to contract physicians to deal with the talent shortage. Some doctors are turning to this freelance work to make more, and the system helps increase staffing at rural hospitals that struggle to recruit permanent physicians.
Large hospitals are also hiring on a greater share of doctors and seeing a larger share of the population. According to Becker's Hospital Review, hospital ownership of physician practices jumped 86 percent between 2012 and 2015. Nearly 40 percent of physicians in the United States are hospital employed, which is a nearly 50 percent increase since 2012.
A Necessary Response
To remain competitive in this challenging talent landscape, healthcare organizations will need to take a proactive approach to planning their workforces, sourcing and recruiting talent, retaining workers and appealing to millennials and Generation Z workers who will fill the roles of retiring baby boomers.
Areas across the United States are already feeling the impact of the healthcare talent shortage; experts say the pressure will only grow. Organizations need to respond now to prepare. Coming up on the blog, we'll have more on the steps companies in the healthcare industry should take and how technology can help.