Medical recruitment strategies need to evolve to compete for talent now and in the future. In fact, according to U.S. Census data, there are 49.2 million individuals age 65 and older living in the U.S., accounting for 12.4 percent of the total population. The aging Baby Boom population and increased life expectancy in the U.S. have created a need for more healthcare professionals. In fact, the Bureau of Labor Statistics projects that healthcare occupations will grow 18 percent from 2016 to 2026, much faster than the average for all occupations, adding nearly 2.3 million new jobs to the economy.
Challenges in Healthcare Recruiting and Medical Staffing
The healthcare industry faces widespread talent gaps and shortages that are expected to grow worse over the coming years. A study conducted by the Association of American Medical Colleges' Center for Workforce Studies revealed there will be 45,000 too few primary care physicians—and a shortage of 46,000 surgeons and medical specialists—in the next decade. Beyond clinical and medically trained professionals, the healthcare industry is also facing a shortage of non-clinical workers such as food service workers, facility maintenance staff and security guards.
The healthcare turnover rate exceeds 19 percent, further exacerbating the talent shortage and skills gap issues prevalent in healthcare, and making it more difficult for healthcare organizations to hold onto their top talent. So, how can organizations overcome these challenges in healthcare recruiting to find the talent they need? Below, we list six strategies to optimize healthcare recruiting practices in the face of these challenges.
How Technology Helps a Healthcare Recruiter
The rise of talent acquisition technology means that healthcare organizations have new and powerful tools for healthcare recruiting. Advances in technology not only make the job for a healthcare recruiter easier, but technology can also help make healthcare recruiting more cost-effective by improving costly time-to-fill metrics, reducing agency spend and streamlining the hiring process.
Improve Employer Branding for Healthcare Recruiters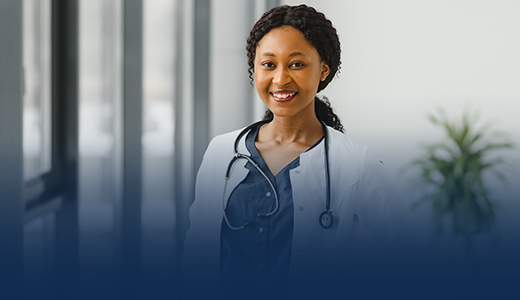 Whether candidates are recent graduates or seasoned professionals, the modern job hunter is likely to research prospective employers before applying to or accepting job offers. To increase the number of candidates accepting offer letters, healthcare organizations need to make sure their employment brand is positive. One of the best ways of doing this is by highlighting company culture and benefits.
For example, healthcare organizations can illustrate their culture by telling compelling stories about their workplace and employees.
Healthcare providers can also attend in-person employer branding activities, like maintaining a presence at local health fairs and sending talent teams to job seeker events at local medical and nursing schools.
Improving Benefits Improves Healthcare Recruitment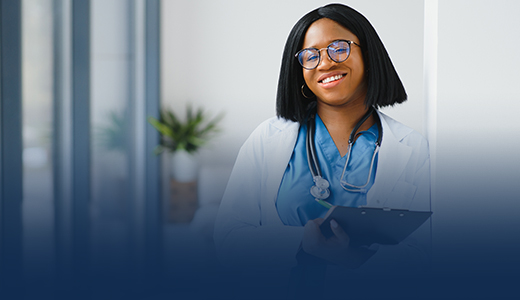 The healthcare industry has become more competitive when it comes to attracting the best and most qualified candidates to fill positions. To get an edge over competitors, healthcare organizations need to become more innovate when it comes to compensation, benefits and flexible work environments.
Healthcare organizations need to look for ways to implement policies around flextime and telecommuting where it makes sense and talk to potential candidates about the benefits that matter most to them. Some candidates will prefer traditional benefits packages, but others might prioritize opportunities in learning and development, mentoring and career growth.
According to Barkley Davis, senior director of physician recruitment at LifePoint Hospitals, debt relief is the top priority for nearly all new physicians, and hospitals should explore new types of financial incentives beyond just salary. For example, LifePoint offers some doctors monthly stipends if they accept a job offer while they're still in training—building employee loyalty months before these new hires are even on the job. Other healthcare organizations are attracting talent by experimenting with new types of teams and scheduling models to meet staffing needs while offering greater flexibility to employees.
Create Healthcare Recruiting and Medical Staffing Candidate Pipelines
Being proactive is one of the keys to success in healthcare recruiting. Healthcare organizations should work towards building strategic talent pipelines that cover both regional and national talent pools. According to the American Hospital Association, partnering with national and state job boards, public health departments, professional societies, universities, colleges, academies and high schools is a good way to develop comprehensive talent pipelines for healthcare recruiting.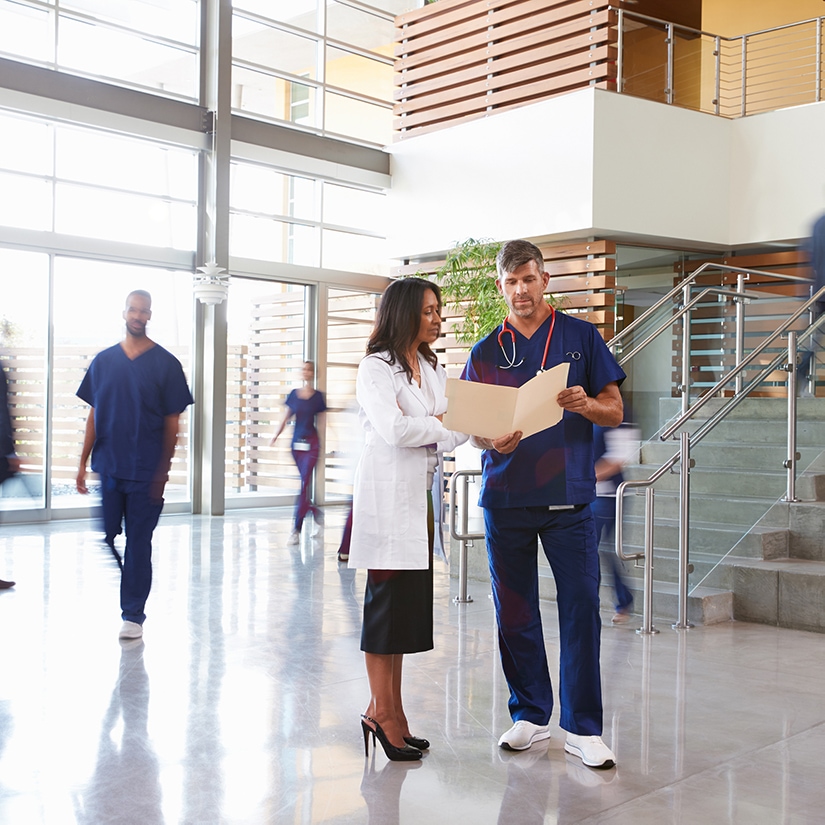 Healthcare organizations can also emphasize diversity recruiting as a priority, not only to demonstrate a commitment to better serving the community, but also to ensure sufficient talent for candidate pipelines in the coming years.
Utilize Innovating Sourcing Methods to be the Best Medical Recruiter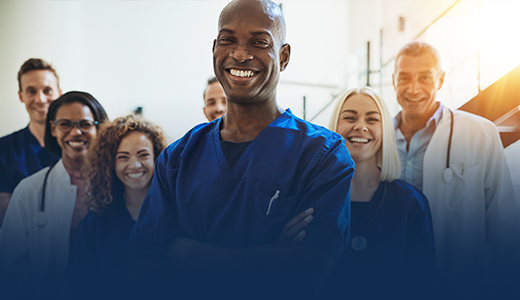 With the current healthcare talent gap, organizations need to source healthcare talent from a diverse range of places. A skilled RPO provider will have their hands on the pulse of the healthcare talent landscape and will be able to source top level talent from a variety of sources.
When it comes to healthcare recruitment, veterans have the training, discipline and work ethic to make great hires. An RPO provider with a long and proven track record of veteran hiring can help healthcare organizations find quality candidates to help bridge the talent gap.
Think Long-term in Healthcare Recruiting and Medical Recruitment Strategies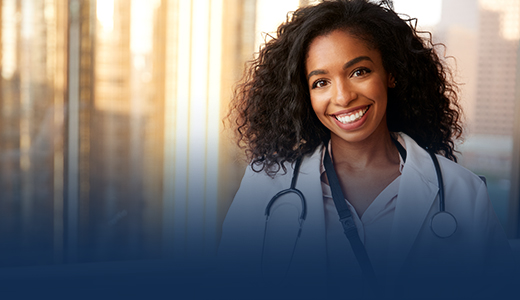 As a healthcare organization becomes better and more adept at recruiting, they may find great candidates that are not a fit for current open positions but could be good potential additions in the future. Healthcare organizations should place top candidates into a talent pool and make sure to communicate with them on a regular basis to keep them informed of new positions that could be a better fit for their skills.
Ignoring, overlooking or not providing proper communication to good talent in the hiring process can leave a poor impression on individuals, thereby negatively impacting a healthcare organizations' employer brand. What's more, 33 percent of job hunters are likely to share their negative experiences with companies on social media.
This, in turn, can come back and harm a company's reputation and employer brand. Thinking long-term makes sure that hiring teams acknowledge the importance of initiating, nurturing and maintaining an ongoing relationship with top candidates and the overall talent pool. These talent pools will help organizations find great talent fast when they are looking to fill an important position in the future.
Partnering with a Healthcare Staffing Recruiter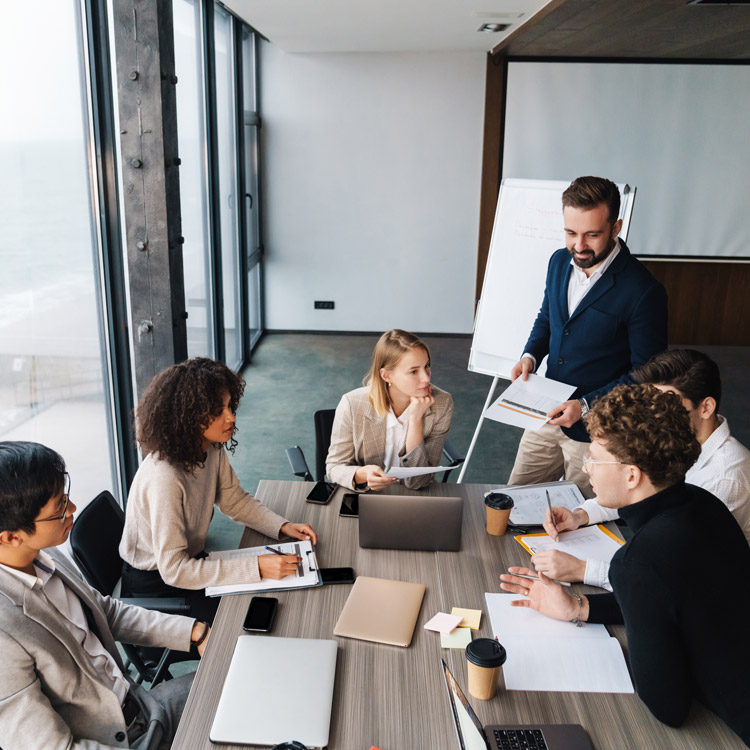 COVID-19 and the Medical Recruitment Strategies Challenges in Healthcare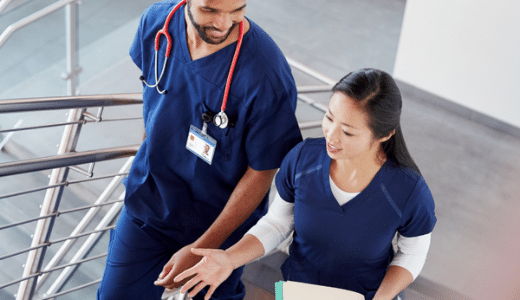 As demonstrated by the COVID-19 pandemic, one of the most consistent challenges during any public health crisis is the shortage of healthcare workers. When healthcare facilities reached maximum capacity, hospitals, nursing homes, and other healthcare providers experienced an urgent need for additional, so healthcare staffing had to get creative to meet demand.
Adding to the challenge of recruiting medical staff during a crisis is the concern that the exposure of frontline healthcare workers could place further strains on an already strained system. During such challenging times, recruiters and medical staffing professionals are left to pick up the slack.
This is where RPO providers can help. An RPO provider possesses the know-how and have experience medical recruitment and sourcing healthcare candidates to make sure you hire the best talent available. The right healthcare RPO provider will take as little time and money as possible sourcing your new workforce, and get them hired as quickly as possible.
The Gist: Medical Recruitment is Challenging but Rewarding
With many older healthcare workers retiring, healthcare organizations need to keep pace with industry recruiting trends and make the much-needed changes to their staffing models to meet the demands of the new and still emerging healthcare talent landscape. An RPO recruiting provider can supply clinical and non -clinical talent from a variety of channels and can work with your in-house recruiters to search for physicians candidates that best match available opportunities.
For healthcare recruiting to be successful, organizations need leaders that understand the benefits of the above-described tips. Integrating these tips into a healthcare recruiting strategy or a healthcare staffing recruiter will result in a workforce with lower turnover rates, higher job satisfaction and improved ROI for your healthcare recruitment efforts.