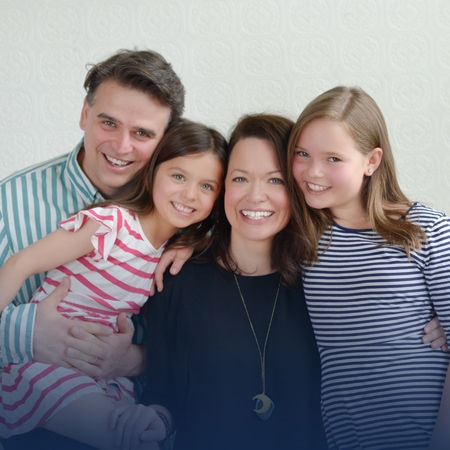 CAROLINE SABETTI
CMO, PeopleReady | PeopleScout, SVP TrueBlue Communications
PEOPLESCOUT U.S.
What do you actually do at PeopleScout day to day?
When I'm not traveling, I work from a home office. So, my children would tell you that I lock myself in my office all day and holler into the phone.
That observation is true in the sense that business communication sounds a lot like hollering to kids. Plus, I do talk on the phone a lot in my role and I do keep my office door locked to avoid intruders (fellow home-officed people know what I'm talking about).

In terms of what I do in addition to that, I have the good fortune to get to be a part of telling our brand story each day. That means I get to work with our MarCom team, our leadership team and people from all across our organization to find ways to make PeopleScout a brand that our people are proud to represent, our clients trust and that prospective clients think of when they need help acquiring talent.
How long have you been at PeopleScout and what was your first position here?
I have been with the legacy-Seaton business since 2002 – astonishingly that's 18 years! I spent most of my tenure with the Staff Management | SMX brand – having the opportunity to work with our founders and experience our transformation from a private company, to private equity-owned to publicly held and a whole lot of firsts along the way. In November of 2016, I got the chance to broaden my experience within TrueBlue by moving to PeopleScout. Being part of PeopleScout has been an amazing journey as our team gets to dream big and try new things, work on really interesting projects – like launching Affinix, the TMP acquisition and publishing a magazine – and evangelize our brand internally and externally.
Do you have a leadership philosophy? If so, what is it?
I do – do your best work and have fun. I really thrive in an environment where we can laugh and be silly. But, for me, fun isn't possible unless we are also doing our best work, continuously raising the bar for ourselves and leading the way for the organization. Conversely, if we aren't having fun – it is awfully hard to do best work. So, for me you can't have one without the other.
Who inspires you? Why?
First and foremost, my family. My mother with her intellectual curiosity and wit and my father with his second to none work ethic and saintly nature. My husband for being so tremendously supportive, juggling more than should be humanly possible and always finding a way to make me laugh. And, more than anything, my amazing daughters who inspire me every day to model the way for them to grow-up to be strong, independent women. Oh, and I'd be remiss if I didn't mention my beloved dog Blue, who inspires me with his unconditional love and exuberant greetings when I get home from a long day of travel.
Second, my team. They are an incredibly cool and talented group of individuals, and I'm so proud that each is a well-respected subject matter expert and valued collaborator to people across our organization. As we look back at what we've accomplished together, it is always astonishing to see how far and fast we've come, and it is impossible not to be inspired.
Finally, my leaders and colleagues. I have always counted myself as lucky, and that's doubly true when it comes to the leaders I've been fortunate to work for and the leadership teams I've gotten to be a part of over my career. People who have supported me, empowered me, appreciated my work and inspired me to do more!
What was your first job?
My very first job was as a tour guide in school. From there I worked for a small businessman in his candy shop and quick-serve restaurant. And then I worked fulltime at a hotel, while going to college part-time, where I got to progress from housekeeper to room inspector and then over to the front desk and ultimately into management. In all three of those early job situations, I had to get way beyond my comfort zone – selling prospective students on our school, opening and closing a restaurant on my own and managing a staff of 32 students and 4 full-timers who were decades older than me – to name a few of the things that were a stretch to say the least. Through these experiences, I learned that I am incredibly motivated by a job well done and that with really hard work you can turn obstacles into opportunities.
My first job in the industry was with Kelly Services where I was fortunate to take on nine different jobs in their field organization and at their corporate headquarters in my five-year tenure. That experience gave me great exposure to all parts of the staffing business in a compressed time period and I also got to work on some high-profile projects which enabled me to work directly with executives early in my career which was also very formative.
What advice do you have for women getting started in their careers?
First – Raise your hand! I got all of those jobs at Kelly Services by being open to new opportunities. My first promotion was from a branch-based recruiter to a sales representative for that city group. My boss came out of her office one Friday afternoon and said, "I have an opportunity." Before she said what it was, my hand was up. A year later, I had the chance to work with the corporate partnered staffing group after winning a big onsite deal. I asked the woman who was assigned as our implementation manager from corporate how I could do what she did – just a few months later I had moved across the country and was doing just that. So, number one piece of advice to anyone starting their career is – raise your hand!
Second – Believe that change brings opportunities! Not long after I made that move across the country, we had a reorganization and I was no longer reporting to the woman who had inspired me to move in the first place. I was devastated – yes, I cried in a conference room. One of my mentors sought me out that day and gave me a copy of the book Who Moved My Cheese. I took the message to heart. Change will happen – there is nothing we can do to stop it. I have found over the last two decades that when you can anticipate change – or at least recognize it early – accept it and quickly recalibrate to the new reality – opportunities will come. Whether it is a new leader, a new location or even a downturn – always look for the silver lining!
Third – When you are doing something new, focus on how excited you are—not how nervous you are. When my daughters are doing something new – a belt test in Taekwondo or a performance – we always try to reframe nervousness as excitement. The more you do that, the easier it gets.
Fourth – Approach every encounter with enthusiasm and a smile. When I started as a sales rep in 1998, we had mirrors in front of our desks and were literally trained to smile and dial. While that may sound horrifying to some, I was often surprised by how a sunny disposition could turn a difficult call around. I'm a naturally expressive and outgoing person. That early experience trained me to embrace that part of myself, instead of trying to hide it to be what I imagined a button-downed professional should be. Now, this doesn't come easily to everyone – but I promise if you make a point of trying to connect on a human-level and bring a little sunshine to every interaction, you'll be amazed at how that positive energy gets amplified and reciprocated. That said, I have to admit that these days I do have to remind myself to stay on the sunny side of life at times—as I juggle my career with trying to be the best mom to my daughters that I can be. While I certainly forget sometimes, when I remember to approach a stressful situation with a smile, it almost always makes me feel better.
Finally – let people know how much you appreciate them and their work. This goes back to the idea of being enthusiastic and positive – if you like something, say it! If you appreciate something, share it! If someone helps you, thank them! We all know how good it feels to receive a genuine compliment – so, get in the habit of verbalizing all of the wonderful things you notice about other people and their work.