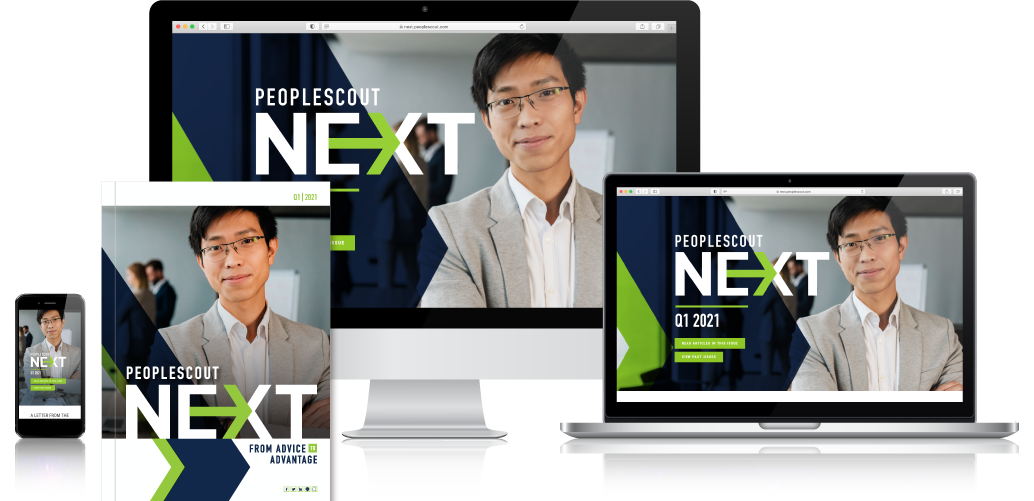 YOUR GUIDE TO WHAT'S NEXT IN TALENT ACQUISITION
The COVID-19 pandemic and societal shifts of the past year continue to transform the global talent landscape and the workplace at large. Challenges and opportunities abound, from the continued shortage of qualified candidates to the looming Great Rehire, as well as the proliferation of new technologies to support the recruitment process.
At PeopleScout, we are already seeing a heightened focus on talent technology, full RPO and project recruiting programs to handle demand as hiring returns. We are also seeing growing interest in total workforce solutions as many organizations leverage temporary or other contingent roles for greater flexibility.
This issue of NEXT dives into those important topics and others relevant to the current climate, including insights and expectations for the Great Rehire and the strategies and tools talent acquisition leaders should consider while forming a post-pandemic hiring strategy.
In this issue of PeopleScout NEXT, you'll get insights on:
Advice on addressing mental health in the workplace
Virtual interviewing solutions
How to improve your employer brand through employer review sites
Talent technology from PeopleScout Vice President of Product Anna Turner
Why Total Workforce Solutions are an ideal recruiting solution for recovery during the Great Rehire
How to leverage an internal mobility program to rebuild your workforce from within
Best practices for sourcing a diverse slate of candidates and more!