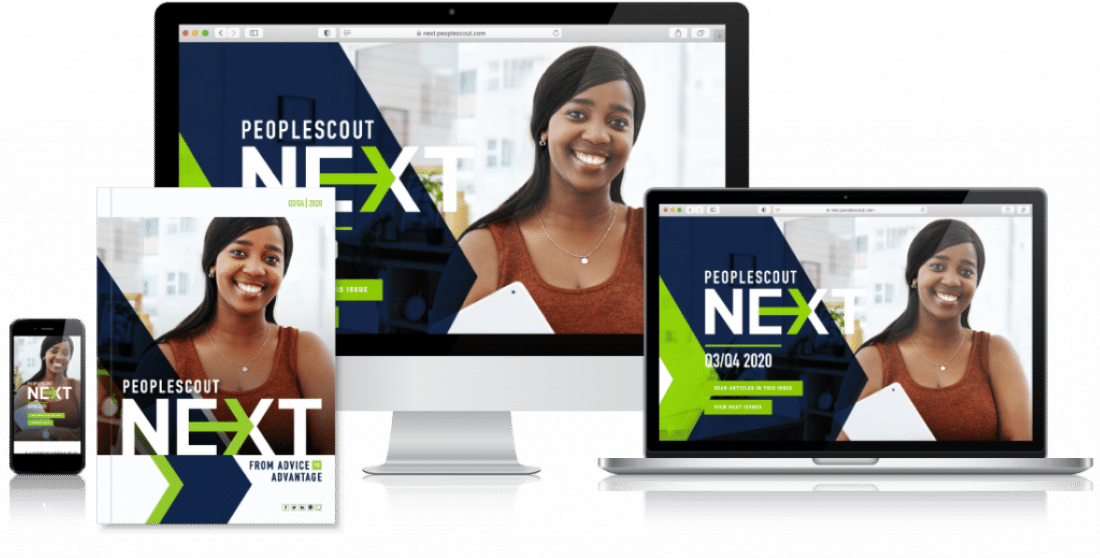 YOUR GUIDE TO WHAT'S NEXT IN TALENT ACQUISITION
2020 has presented unanticipated challenges in all areas of business—especially in talent acquisition.
At this time last year, talent professionals were strategizing ways to reach top talent in one of the most competitive labor markets in history. However, as a result of COVID-19, HR professionals and their organizations now face an unpredictable future, but there are a few things that remain certain: the importance of finding the right talent to meet your business needs and ensuring that you have the right tools and technology to connect with the best talent faster and safer.
In this Q3/Q4 2020 edition of PeopleScout NEXT, we provide insights into the most important talent acquisition and workforce management topics of today and continue to focus on the concepts we introduced earlier this year as a response to the way COVID-19 has reshaped our world.
In this issue of PeopleScout NEXT, you'll get insights on:
Building impactful employee resource groups and exploring the meaning and importance of inclusion in the workplace
Workforce flexibility and remote work and what they mean for the future
Why the time for talent pipelining is now
How MSP and contingent labor programs can help maintain business continuity
How the pandemic has affected your employer brand
The benefits of RPO in our new normal and much more