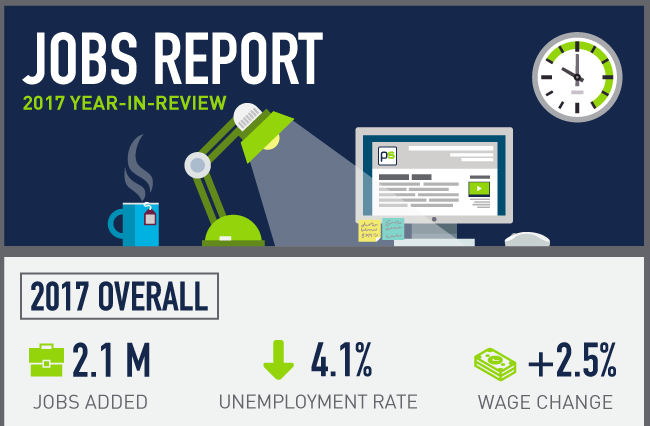 The Numbers:
2.1 million: The economy added 2.1 million jobs in 2017
4.1%: The unemployment rate fell from 4.8 percent to 4.1 percent in 2017
2.5%: Hourly wages increased 2.5 percent in 2017
The Good
The U.S. economy saw continued growth in 2017, marking 87 straight months of growth, according to the New York Times. The 2.1 million jobs added in 2017 brought the unemployment rate down to a low that the U.S. hasn't seen in 17 years.
The Washington Post reports that there is now nearly one job opening for every unemployed person in the U.S., with 6 million vacancies and 6.6 million unemployed people. While this is good news for anyone who is looking for a job, employers are struggling to fill open positions. Economists expect the job growth to continue into 2018, causing the unemployment rate to continue to fall.
The Bad
While the economy is still growing, that growth is slowing. According to CNN, the economy added nearly 3 million jobs in 2014, 2.7 million in 2015 and 2.2 million in 2016. The two weakest months for hiring in 2017 were March and September. However, economists attribute that to weather. March was cold and snowy, and hurricanes Harvey and Irma impacted hiring in September.
Retail hiring was another weak point in 2017. The retail industry shed 67,000 jobs. More than 20,000 were lost in December alone. The rise of e-commerce hit retails stores particularly hard in 2017.
Additionally, despite the continued job growth and falling unemployment, wage growth has remained sluggish. Economists have offered a variety of explanations; however, many expect increased wage growth to start soon. Some industries, particularly the finance and leisure and hospitality sectors are already seeing wage growth that is significantly higher than the national average.
Looking Toward 2018
Looking forward to 2018, economists expect more good news. According to the Wall Street Journal Economic Forecasting Survey, economists expect the unemployment rate to fall to 3.9 percent in June and 3.8 percent by December. They also expect the economy to add slightly fewer jobs than 2017.
As far as any impact from the tax bill, economists are skeptical it will have any immediate effect on either job or wage growth, according to Business Insider. However, according to the New York Times, 2018 could see more wage growth, as industries where they labor supply is tighter are seeing wages rise.
Review the monthly 2017 jobs reports to see how things changed month to month, and check back each month for our analysis of the 2018 jobs reports.
March 2017 Jobs Report
April 2017 Jobs Report
May 2017 Jobs Report
June 2017 Jobs Report
July 2017 Jobs Report
August 2017 Jobs Report
September 2017 Jobs Report
October 2017 Jobs Report
November 2017 Jobs Report
December 2017 Jobs Report
The Global Unemployment Report – Q3 2017
PeopleScout partnered with HRO Today to produce a quarterly summary of international unemployment metrics for key countries in North America, Latin America, EMEA and APAC, including highlighting the countries with the most highly skilled workers. This issue of the report focuses on Q3 2017.
Click below to access the white paper
DOWNLOAD WHITE PAPER