3,200
+
Increase in Applicants from Diverse Backgrounds
18,056
Views of Influencer Video on YouTube in Less Than 48 Hours
351,304
Impressions Across Social Media via Nano-Influencers
Situation
The Fast Stream aims to be the most inclusive graduate scheme in the UK and has a goal for the diversity of its workforce to help ensure that every government department reflects all of the communities they serve. However, research they commissioned revealed a misperception, particularly amongst those within underrepresented diversity groups, that the Civil Service Fast Stream represents the elite and is not diverse.
Whilst they weren't in need of more applicants, they needed to increase the diversity of their candidates.
They turned to PeopleScout for a Talent Advisory solution that counteracted the perceptions of the Civil Service as being "stuffy," "outdated" or "inaccessible." The campaign needed to show the Civil Service Fast Stream as accessible to all graduates, regardless of their background, and increase representation of applicants from specific diversity groups to better reflect communities in the UK.
Solution
Taking a Cue from Consumer Marketing
Given the high number of applications the Fast Stream receive year-on-year, and the campaign objectives to diversify them, we made the strategic decision not to proceed with a traditional graduate media campaign.
Instead, we turned to online influencers.
While widely used in consumer marketing, influencer marketing is relatively new to the recruitment space. It was certainly innovative for the Civil Service and definitely not one our target audience would expect them to use.
Finding the Right Influencer
Identifying the right influencer, with the relevant following, would help us to:
Increase credibility with underrepresented groups
Remove perceived barriers around government work and the type of people who can get involved
Ask the right questions—those on the minds of the target audience
We found Vee Kativhu, an author and influencer who fit these criteria. Vee started her YouTube channel after getting into Oxford University and realizing that, as a black woman, she was a minority. She uses her platform to help those from lower socioeconomic backgrounds get access to the best information and advice so that anyone can achieve their dreams, no matter their background.
Continuing our theme of telling real-life stories, Vee spent a day with three Fast Streamers and produced a "day in the life" video, which she posted to her YouTube channel with over 250,000 subscribers. She also promoted the video through her Instagram and LinkedIn profiles.
We also engaged 12 diverse nano-influencers, with targeted followings, to reshape and share the video among their networks—further expanding the reach.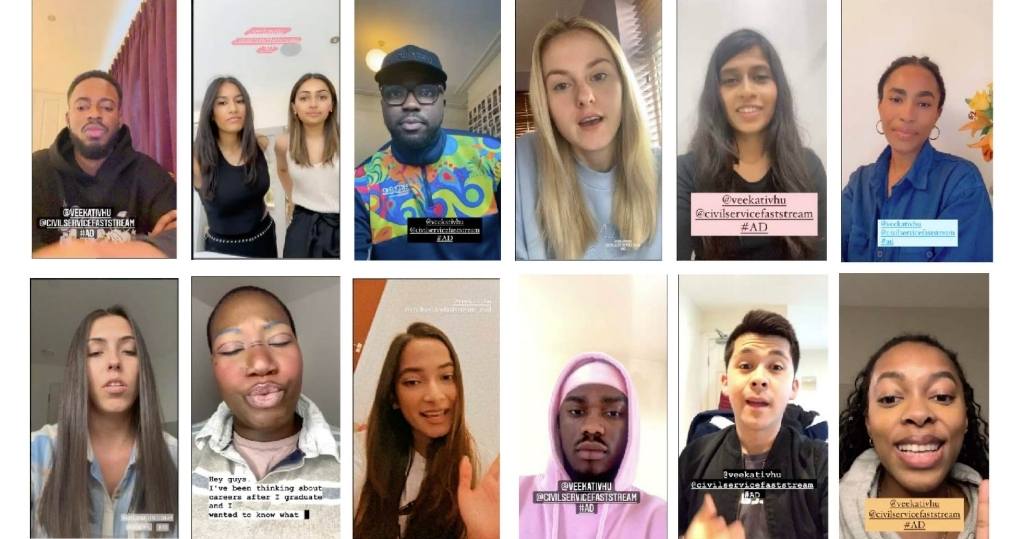 Results
The campaign boosted applications from their target demographics by over 3,200, including significant increases in interest from candidates from ethnic minority backgrounds, from lower socioeconomic backgrounds, from the LGBTQ+ community as well as those with disabilities.
Vee's video received 18,056 views in less than 48 hours. It went on to achieve over 36,000 total views with over 1,200 likes. Over the four-week social media campaign, Vee and the nano-influencers achieved a combined reach of 351,304 impressions and 2,436 engagements.
"Such an amazing video, Vee! Super informative, and I love the positive approach to a more diverse Civil Service."

YouTube comment
By taking an innovative approach to reach their target audience, the Civil Service Fast Stream received a cost-effective campaign that delivered on their diversity recruitment goals.
"Our new attraction strategy, particularly in the innovative use of working with influencers, really captured our vision of a skilled, innovative and ambitious Civil Service equipped for the future—one that reflects the country we serve."

Talent Acquisition Leader at the Civil Service
"I love the new look and feel of Fast Stream attraction, especially as it's generating feedback that 'you don't normally see this kind of thing in the Civil Service.' Bold, different and refreshing."

Talent Acquisition Leader at the Civil Service
AT A GLANCE
COMPANY: The Civil Service Fast Stream
PEOPLESCOUT SOLUTIONS: Talent Advisory
ANNUAL HIRES: 1,000+
ABOUT THE CIVIL SERVICE FAST STREAM: The Fast Stream is an award-winning graduate program for the Civil Service, developing talented, high-potential people to become future Civil Service leaders. Annually, the program recruits approximately 1,000 people from around the UK across 15 different leadership and specialist development schemes.