A plethora of social, economic and environmental impacts are contributing to the emerging global "polycrisis." Beyond the pandemic, the future impacts of climate change, biodiversity loss, pollution and overexertion of natural resources will affect global health in the long term. This will impact the work of life science organizations as climate change is increasingly linked to diseases like cancer, diabetes and heart disease. Plus, the life science industry is among the largest carbon emitters, with biotech and pharma as the leading contributors. It's no surprise that life science companies are focusing on Environmental, Social and Governance (ESG) initiatives. For talent acquisition leaders, this poses unique challenges and opportunities when it comes to life science recruitment.
In this article, we review the industry's impacts on the environment, how those impacts affect life science recruitment, and how a green EVP and employer brand can be leveraged as a critical differentiator in your ability to attract talent.
Life Science's Impacts on the Environment
The average carbon footprint of one life scientist ranges from an estimate of four to 15 tons of CO2 per year. This doesn't even include the use of consumables, chemicals, production resources, equipment, transportation, energy, and construction and building maintenance materials. There's no denying that the entire industry's workforce footprint is quite significant.
Moreover, pharmaceutical production is highly water-intense, and waste is poorly managed with only nine out of 118 pharmaceuticals removing their waste sustainably during the treatment process. Approximately 4,000 active pharmaceutical ingredients (APIs) are administered worldwide in prescription and over-the-counter medication as well as therapeutic and veterinary drugs. Residues from these drugs are released into the environment, contaminating the soil, rivers and lakes. With drug waste polluting the environment, the Global Leaders Group has created a call to action for all countries to improve measures for the management and disposal of antimicrobial-containing waste, declaring it as a "major threat to public health."
Four out of the top five (80%) global risks forecasted for the next decade are related to global health and climate change. The opportunities created by the industry to improve their environmental impact through ESG initiatives are huge.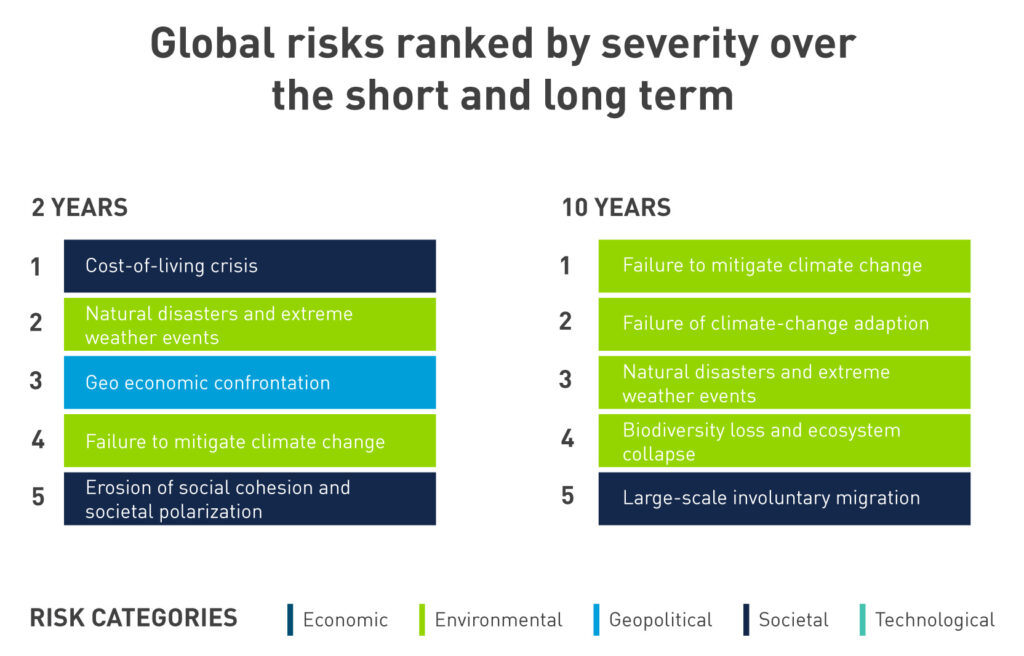 Gen Z and Millennials Care About ESG Initiatives
By 2029, Gen Z and millennials will account for 72% of the world's workforce. This workforce has placed greater importance on ESG issues than previous generations. Considering the industry's impact on the environment and the global force of this growing talent, millennials and Gen Z will keep the life science industry on its toes. To stay on top, it's crucial that life science recruitment teams and hiring managers understand what this workforce wants, what they value and how these components contribute to their employment decisions.
Around the world, young scientists are demanding that "climate justice" be at the top of the global agenda, with environmentalists stressing the need for organizations to radically reduce their carbon emissions. They are tired of politics influencing scientific decisions, slow global engagement and action, and "poor public communication concerning the state of our understanding of climate change."
As this talent seeks purpose in their careers, they prefer to work for employers that have set actionable ESG initiatives towards improving their sustainability efforts. Organizations with ESG practices and policies show top talent that they are purpose-driven and progressive, which is a top consideration for this younger STEM-based workforce when applying and working for your company.
According to a study by Swytch, nearly 70% of Gen Z and millennial respondents say that a strong sustainability plan would affect their decision to stay with a company long term. About 30% of respondents report that they have left a company due to its lack of a corporate sustainability agenda with over 11% doing so more than once. Additionally, a 2023 report by KPMG UK showed that ESG initiatives are influencing employment decisions for almost 50% of UK employees, with millennials and younger workers driving the growing trend of "climate quitting" in search of more environmentally friendly jobs.
Employers must understand that candidate attraction is more than high salaries and fancy titles. This workforce wants leaders to fearlessly and publicly take a stance on their ESG initiatives and to make it a part of the workplace culture. Failure to do so will make it difficult to attain top talent, further adding to current life science recruitment challenges due to workforce shortages and widening skills gaps.
Intertwining Your ESG Initiatives into Your EVP and Employer Brand Strategy
With no time to waste, life science organizations need to invest in a "green" employer value proposition (EVP) and employer brand strategy.
"Today's labor market wants to join companies that make a difference in a real way."

Cynthia Burkhardt, Global Head of Talent Acquisition, Kimberly-Clark
With Gen Z and millennials viewing social and environmental responsibilities as a key differentiator when considering where to work, it's no surprise that an employer's ESG initiatives have become a crucial component of the life science recruitment process. Whether your organization is already incorporating sustainable practices into your operations and mitigating risks to climate change or planning to do so, this is the opportunity to showcase that. Here are steps you can take that will appeal to your current and future workforce:
1. Define Your ESG Voice
Sustainability buzzwords are not enough, and top talent isn't buying it. In fact, the European Commission's National & Consumer Protection survey found that more than 42% of online corporate "green" claims were exaggerated, false or misleading. With "greenwashing" or "green-laundering" on the rise, employers need to establish ways to gain the trust of Gen Z and millennials. Your voice must showcase your purpose and intent. For example, using keywords like "zero discharge" and "risk mitigation," rather than vague and misleading terminology such as "eco-friendly" or "sustainable," will have candidates viewing you as more honest and authentic than the competition.
"Sustainability plays a big role for me. An employer that is supposedly committed to it, but hardly knows what to do with the topic behind the scenes, has no future for me."

—Gen Z respondent from Austria
2. Communicate Your Mission
Build your internal and external employer brand messaging around the organization's ESG initiatives such as corporate sustainability efforts and climate change initiatives. Keep in mind that the internal launch of an EVP and employer branding platform plays a critical part in laying the foundation for the success of the external launch. Bring your EVP to life through transparency and stakeholder alignment. Your employer brand message must be aspirational, future-focused and agile enough to sustain any changes that may come.
3. Weave ESG Initiatives into Your Life Science Recruitment Marketing Materials
Incorporate your ESG-centric mission and values into your career site and explain how those objectives are part of the organization's DNA. On social media and other attraction channels, feature content that is relevant to topics like green training and development, environmental advocacy, waste minimization and corporate reduction of CO2 emissions to attract a wider variety of STEM-related talent.
4. Showcase Your Investment and Metrics
Remember that acting on your ESG initiatives is more than providing donations or partaking in "volunteer hours" that gain you a gold star. Let candidates know how much landfill waste you've reduced through your recycling program or that you've reduced your carbon footprint by 10%. Organizations that actively monitor their social and environmental impacts yield greater candidate attraction and positive impacts to their triple bottom line.
5. Highlight Employee and Leadership Involvement
Leverage your employees' passions, concerns and ideas as a compelling way to address the organization's initiatives. You can take the output from this to generate recruitment marketing materials, such as employee testimonials, quotes and even videos of leadership involvement or team building initiatives. For candidates, this effort exemplifies a company culture that genuinely wants to make an impact.
6. Green Up the Candidate Experience
Alignment of values is top priority for today's candidates. However, it can be difficult for them to determine if a potential employer's ethics align with theirs. To improve candidate experience, incorporate ESG initiatives into your job descriptions. For example, call attention to how the role will help achieve sustainability initiatives and feature any employee green benefits like locally sourced perks or green travel packages.
Most importantly, make sure your recruiters and hiring team are aware of your green values. According to HRD Australia, often times the hiring team is not well-informed on what the company is doing in these areas. A life science recruitment team that is aligned with the organization's ESG initiatives will ensure smooth communication and a good first impression with potential candidates.
Can You Keep Up?
With Gen Z and millennials shaping the future of work, employers cannot afford to trail behind the curve when it comes to ESG. Additionally, as early-career candidates and graduates are a top source for talent in the life science industry, organizations that do not have visible and measurable ESG metrics risk alienating this top talent. Focus on incorporating your ESG initiatives into your organization's EVP, tweak your employer brand messaging to reflect what your workforce wants.
Read our ebook for more life science recruitment insights
The Changing Workforce in Life Science: Adapting to a New Era